Benefits of Sit-Down Dinner vs. Buffet Catering for Wedding Receptions
When planning wedding receptions for wedding events, one of the many decisions to make is whether to have a formal sit-down dinner or buffet catering. Both options have their benefits. First, consider your preference as a couple. Think about what you want your reception experience to look like. This is your wedding reception, so you want to enjoy it! Also, consider what will work best for your guests. They are what make wedding receptions so fun and memorable, so you want them to feel at ease as well!
A sit-down dinner is often a bit more formal and without the need for guests to move about the room. This style of dinner can be very relaxing, and plated food is served to individuals who chose that dish when they responded to the wedding reception invitation. Each course is served basically at the same time, so reception activities can be well-timed before, during, or after each course. If your guests are elderly, have young children, or disabled, a sit-down dinner may be the perfect choice. Sit-down dinners naturally work well with evening weddings, where guests can sit and enjoy the company of those at the table. Who knows, a young single may meet someone there at the table who will become their future spouse. Giving guests time to mingle and converse in a relaxing setting is a benefit of the sit-down dinner style. A sit-down dinner wedding reception will be remembered by guests for years to come for the experience of being served with class.
Buffet catering is wonderful as well, since guests can choose the type and amount of food they would like. This is an excellent choice for those who have special dietary needs, but it also allows flexibility in allowing the guests to eat as little or as much as they would like. Buffet catering can feature more options for the guests and could include different stations such as an appetizer station, meat station, fruit station, etc. This style is typically less expensive than a sit-down dinner and less formal but very enjoyable for guests. Buffet catering can still be very elegant. Professional chefs serve guests at the buffet stations and keep the buffet display looking clean and neat. If your wedding reception is outdoors, buffet catering suits nicely since these events tend to be more casual.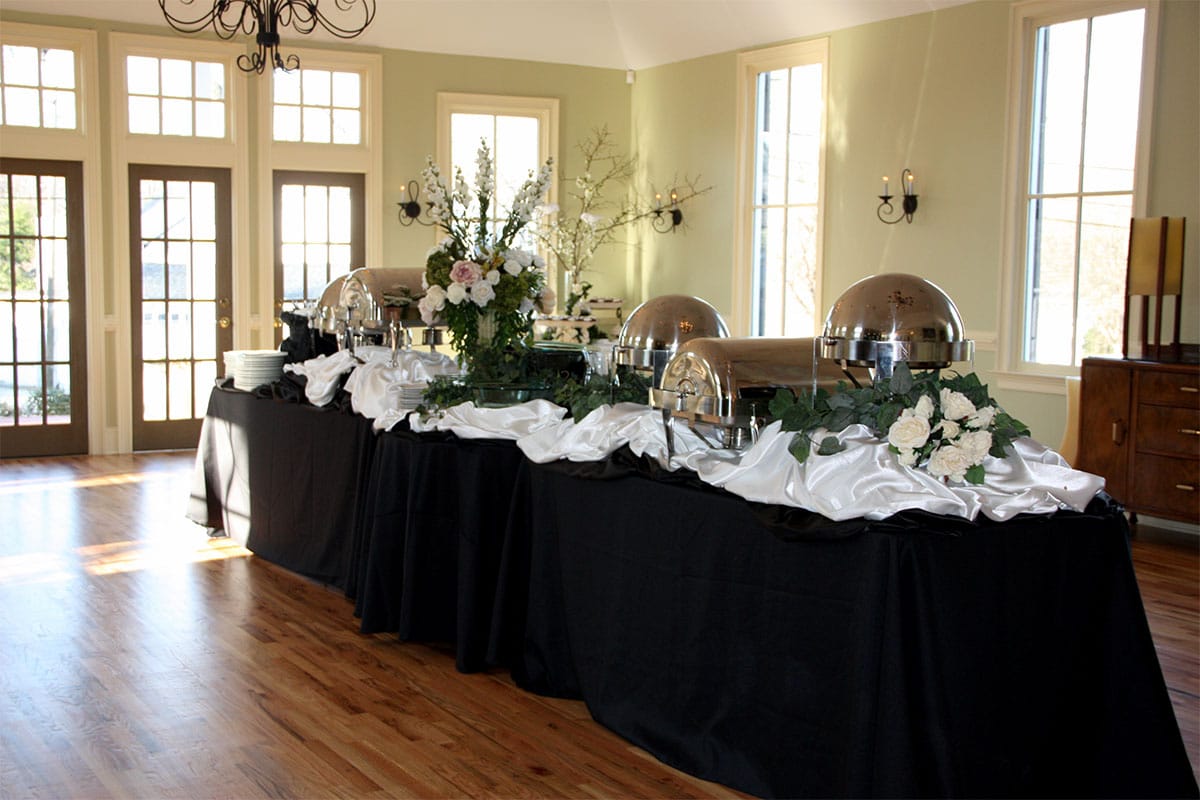 The joy of planning wedding receptions is that each event is unique to the couple and and a joyful celebration of their marriage, no matter what style of dinner is chosen. Do you enjoy sitting down and having someone serve you, or do you enjoy the option of choosing the food you put on your plate? Would you like your wedding reception to be more formal or more casual? Are your guests elderly or have trouble with mobility? Do they enjoy informal gatherings? These factors can help with making your choice, but ultimately the decision of sit-down dinner vs. buffet catering is up to you, the couple.
A Delightful Biteful Catering Company in the Atlanta area loves to help brides have outstanding wedding receptions with taste and style!