Catering Ideas for Baby Showers & Gender Reveals
Professional caterers can really help your baby shower or gender reveal event go off without a hitch. it allows you to relax and enjoy the festivities since you don't need to worry about shopping, preparing, presenting or refreshing the food.
The planning of a menu for a baby shower or gender reveal typically takes into account a couple of factors including the nature of the event, your budget, and the length of time the baby shower will last.
It is also important to consider how the mother-to-be feels. You would not serve alcohol at a baby shower, say, because she can't drink. The new mom will prefer food items that she likes. So if fruit punch is her favorite, be sure to include it on the menu.
When you avoid meal times, food can be more light, snack-oriented, with a small amount of cake. As they approach meal hours, more food will be expected. The baby shower tends to take place around two o'clock in the afternoon. At this time of day, a menu might comprise:
A punch drink
Hot hors d'oeuvres
Small sandwiches
A cake or desserts
Fresh Fruit Salad
Veggie Trays
Although you should consider the time, location, theme, and budget of your social event when planning your food menu, these ideas serve as good ideas for making your event as memorable as it is enjoyable.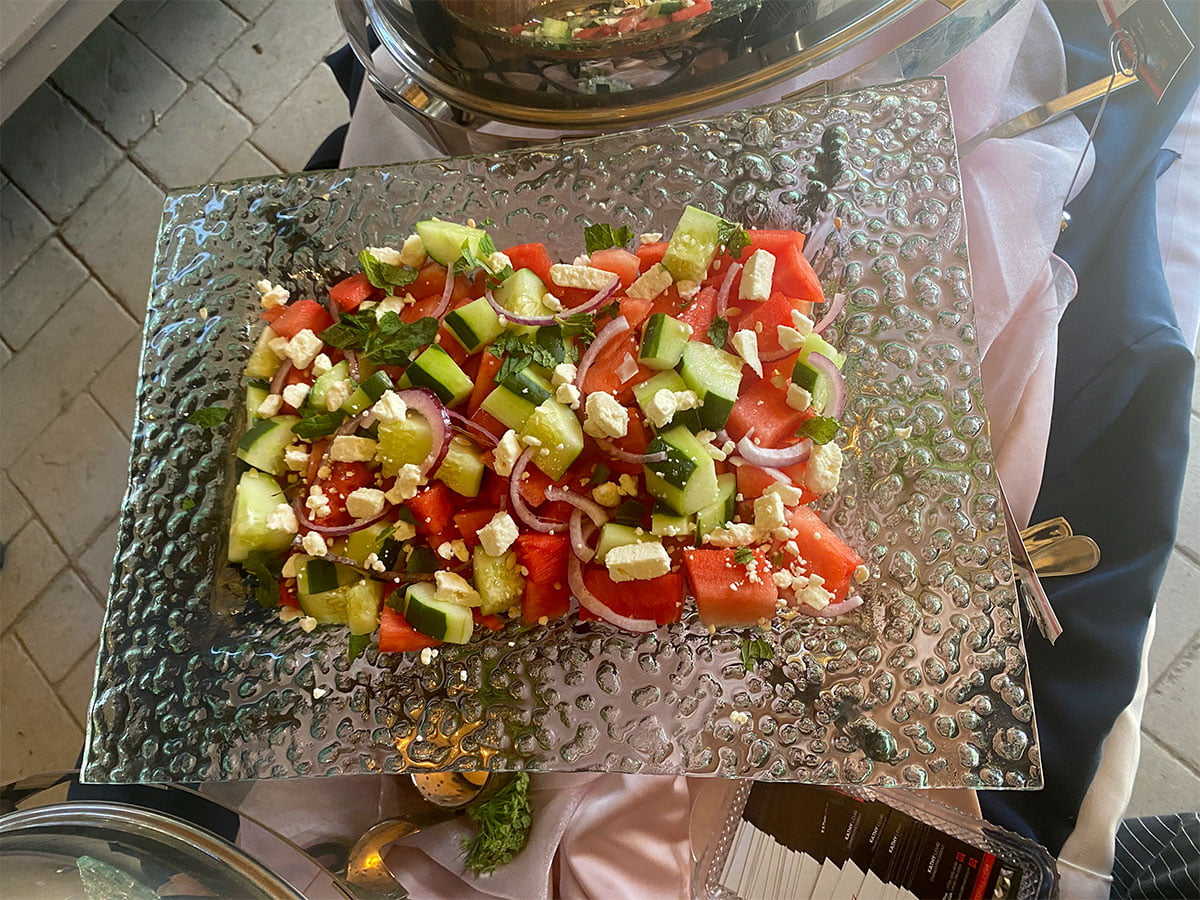 Provide bite-sized finger foods
A bite-size finger food menu accomplishes several useful objectives. It helps with the cost and waste reduction by eliminating the need for plates and flatware.
In addition, you can provide your guests with a greater variety of food. As a general rule, you should plan for three to four different foods and two of each item per guest. Even if you hold your event near mealtime, that will average out – some guests will eat more and others less – so your guests will still have plenty to eat.
Set up food stations
Spread food stations or platters throughout your party space. Your guests can grab interesting-looking items as they pass by or talk nearby. You can avoid the bottleneck that happens when an event's food is offered all in one location by spreading the spread around the room. You'll also discourage the plate piling and make sure food is available throughout the event.
Provide Food Variety
Depending on the likes and dislikes of your guests, there might be dietary restrictions to consider. Make sure to prepare a wide variety of foods so that everyone has something to eat.
You should first talk to the expecting mom-to-be about her dietary restrictions. In a lot of cases, the mother will not be able to consume certain foods, such as soft cheese, some types of fish, any raw or undercooked fish, meat or sweets. eggs, etc. Feel free to use your judgment, but if she cannot have certain foods she particularly loves, you might want to consider removing them from your menu out of consideration.
Consider providing at least a few vegan or vegetarian options for dietary reasons. A few guests may have special diets or dietary restrictions for medical reasons.
Using the services of a professional caterer, like A Delightful Bitefull in Atlanta, you can offer a buffet, a light reception, hors d'oeuvres, or whatever type of menu you desire.
Let us help you plan your upcoming baby shower or gender reveal party with these and other catering options – like food stations, chocolate fountains, and more. Be sure to check out our catering menus!