Everyone knows that winter weather is perfect for having a great time outside with your family—sledding, building snowmen, and skating. The cold season also makes a lovely time for winter parties with a hot chocolate bar as the event's highlight. I mean, who doesn't love a mug of hot cocoa in cold weather. There are a lot of hot chocolate bar ideas to prepare the perfect bar for winter. You can make it as straightforward or as extravagant as you want.
To help get you started, we've put together some hot chocolate bar ideas, tips, and tricks for your winter party that your guest will surely enjoy. Be sure to check out these hot chocolate recipes as well.
How & Where to Setup Your Hot Chocolate Bar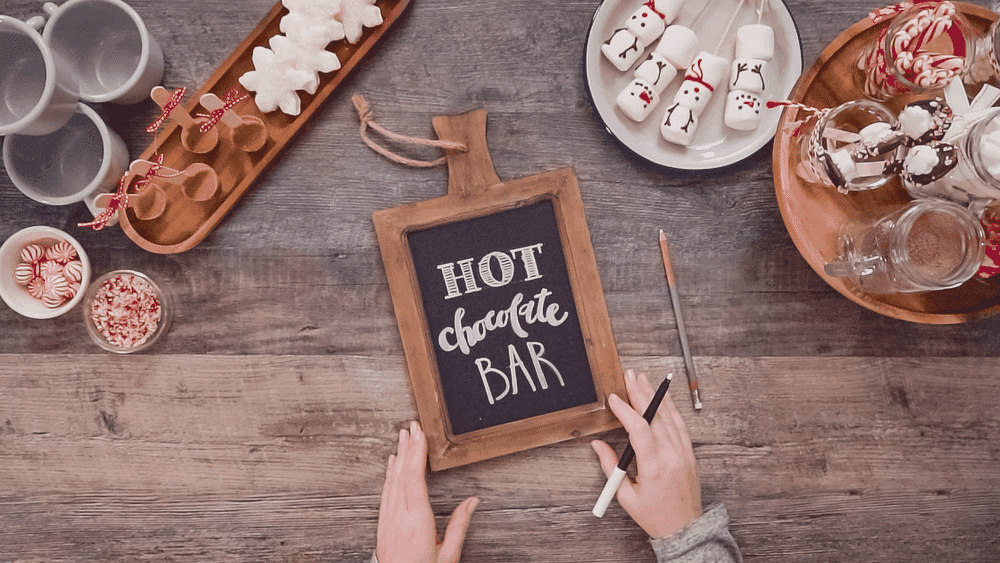 The first thing to think about is how and where to set up your hot chocolate bar. Choose a part of your house with enough space for everyone to gather around the table. Depending on the size of your hot chocolate bar, you can put it up on a bar or a table. Drape a tablecloth over your table, and make sure to set up a few decorations to make it look more festive.
Of course, if you want to keep things moving smoothly, you may also do the following:
Make a Designated Starting and Ending Point
The points will help you avoid traffic when a guest starts to line up and mix their desired hot cocoa. Begin with mugs & spoons on one end, followed with hot chocolate and toppings.
Hang Labels to Identify Your Toppings
By including hot chocolate bar labels into your setup, you won't have to worry about anyone mixing up the peppermint powder with the peanut butter powder or accidentally drinking something they are allergic to.
What to Put on Your Hot Chocolate Bar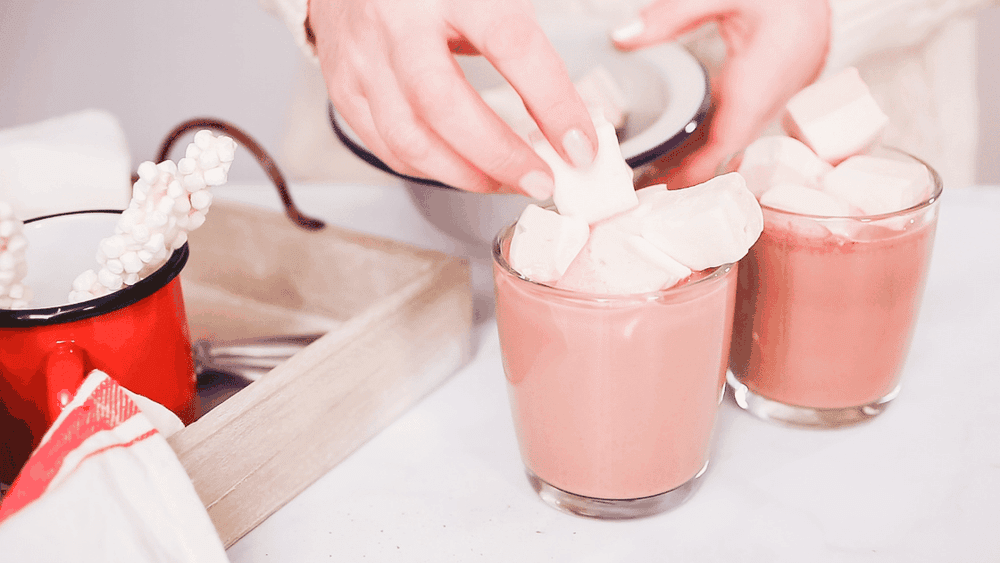 Part of the fun in hosting a winter party is deciding what to put in your hot chocolate bar! Stick to tried-and-true classics or get creative with different toppings and add-ins to create your signature drink. Of course, what you put in your hot chocolate bar will depend on the amount of space you have. So start with the basics and add some fun toppings.
Take what you need from this list below and leave what you don't.
Mugs & Other Essentials
Make sure you've got enough mugs for everyone! Some cute cups paired with cute spoons may truly complete whatever look you're going for. You can use colorful mugs, classic white mugs, or even chalkboard mugs on which everyone can write their name. You also need to make sure to prepare spoons, napkins, saucers, and other essentials available that your guest might need.
Hot Chocolate
This is the highlight of the party that you don't want to forget. You can let your guest do it from scratch as long as all ingredients are available. You may also skip the mixing process entirely and go and just prepare ready-made hot cocoa in a slow cooker to keep it warm using your best recipe to really wow your guests.
Toppings
Now comes the exciting part! It's entirely up to your guest how wild they want to get with their toppings. It's easy to go overboard and overwhelm them. Remember that a mug can only hold so much, so choose your toppings wisely!
Here are some suggestions:
Marshmallows
Chocolate Chips
Whipped Cream
Caramel Sauce
Chocolate Syrup
Peppermint Sticks
Candy Canes
Chocolate Sprinkles
Cinnamon Sticks
Coconut Flakes
Caramel Bits
Peanut Butter Powder
Other Sweets and Snacks
Hot chocolate is the highlight of your hot chocolate bar party, but it should not be the only feature. Other sweets and snack items will help round out your offerings and add the finishing touches to your party.
Here are some suggestions:
Cookies
Cakes
Donuts
Biscuits
Sliced Fruits
Have Fun During This Winter Season
Winter might be cold be and dark, but with the hot chocolate bar ideas we shared above, you can introduce a warm ray of sunshine for those you care about.
Are you planning to host a winter party but don't have the time to do all the preparation on your own? Don't worry. A Delightful Bitefull Catering is the best choice to do the job for you! So contact us now, and let's plan the best party this winter for you and your loved ones.