A beautifully set table makes any meal a special occasion, and what dinner could be more important than Thanksgiving? Thanksgiving is all about gathering with your family and friends to share a festive meal, and setting a Thanksgiving table with our tablescape ideas should not be more complicated than preparing the food!
You can go all out with your holiday decorations or choose a more straightforward and minimalist approach. Whether you're throwing a dinner party for 4 or 20 of your friends and family, you'll want to make sure your table looks as good as your food, from the tablecloth to the place cards. Whatever you choose to do, creating a beautiful Thanksgiving tablescape is doable and doesn't have to be outrageously difficult or expensive to achieve.
If the thought of putting together a festive tablescape makes you feel completely overwhelmed, then these tablescape ideas for Thanksgiving will help you get started.
Keep it Simple & Timeless
Instead of overwhelming your table with large, colorful gourds, you can keep it simple by layering the most superficial elements and textures like olive branches over a crisp, white table runner. You may also add pillar candles surrounded by pears, apples, and fall leaves.
Simple and timeless, this is a look you can put together this Thanksgiving and then use year after year.
Kid-Friendly Tablescape
This tablescape is a fantastic idea for a Thanksgiving dinner with children. First, make the kids happy by giving them their table. The kids will love this, with shatter-proof colored plates and gourds transformed into turkeys. Then, cover your table with construction or kraft paper and give them some sets of crayons so kids can draw on it all night.
Flower-filled Centerpiece
A simple tablecloth and dishware combo keep all focus on your eye-catching centerpiece. While large flower arrangements can be expensive, a leafy garland with tiny pumpkins and pomegranates is significantly cheaper.
First, attach beautiful flowers directly to orange pumpkins using hot glue to achieve this look. Next, add floral bouquets to miniature pumpkins, which can easily make excellent vases.
Rustic & Elegant Table Setting
You can use copper silverware, earthy linens, and organic-looking florals combined to achieve a design that is both rustic and elegant.
You can also use antlers, a neutral color theme, miniature white pumpkins combined with dramatic topiaries, and a surprising element: square chargers.
Coastal Thanksgiving Table
When it comes to Thanksgiving, one doesn't typically think of the ocean. Still, this tablescape perfectly blends fall features like pumpkins, burlap, acorns, and antlers with coastal accents like miniature starfish, shells, and a color palette representing the sea.
Outdoor Bohemian-Chic Table Setting
Bird's Party chose a bohemian-chic outdoor table setup with copper accents and lovely pink tones. The rustic wooden picnic table is complemented by simple white tableware, copper tumblers, and an arrangement of pink, purple, and white blossoms. Plush blankets and pillows are kept on hand to ensure your guests feel more comfortable outside.
Neutral & Minimalist Tablescape
In this unexpectedly minimalist tablescape, golds and whites work well together. A dark, gloomy runner underlines the otherwise light and airy tableau.
Bright Blue Table Setting
The color blue may not be the first thing that springs to mind when you think of Thanksgiving dinner, but that's precisely why we think you should try it. It's a delightful, surprising variation on the typical tablescape, complemented by gourds, pine cones, and lanterns.
Gold Statement Tablescape
It's remarkable how gold spray paint transforms the appearance of objects. Pumpkins and pine cones are given the Midas touch and arranged on a burlap runner with gold berry vines and votive candle holders for a Thanksgiving table that truly shines.
You may use gold dinnerware to add the perfect contrast to a white linen tablecloth for an elegant look. These items can serve as the statement piece of your Thanksgiving tablescape.
Bright and Bold Thanksgiving Table
This table is all about color, with vibrant turquoise linens and blue mason jars complementing the orange pumpkins and berries and making them stand out. Textured layers on the chargers and the runner gathered along the center make the table feel more sumptuous.
Classic Fall Tablescape
This classic Thanksgiving tablescape includes only a plaid table runner, silver chargers, tea lights, and yard leaves. You may add a wheat-stalk bouquet or a couple of extra pumpkins to the mix.
Try Out One of Our Tablescape Ideas!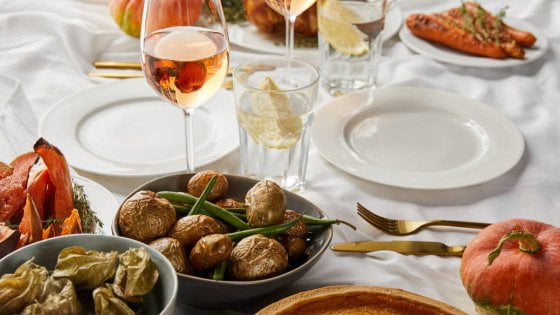 Whether you want to stick to tradition or try something different, we shared these tablescape ideas for Thanksgiving for you. These quick and easy ideas will help you achieve your ideal Thanksgiving dinner table setup.
However, when you plan to create a more professional-looking tablescape, look no further than A Delightful Bitefull Catering to help you! We are the most recommended catering service in Georgia. We'd love to hear from you and help make your Thanksgiving dinner party a huge success. Contact us today!