When the jingle bells begin to ring, you know it's time to pull out your calendars and start planning the office Christmas catering party. Your employees appreciate these holiday parties that allow them to talk, eat, and drink. It's an excellent way to end the year on a festive note.
Your holiday office party preparation should begin with delicious foods and drinks. The most challenging part of preparing a party is deciding what to serve. Some parties serve appetizers. Some serve full sit-down dinners. In contrast, others have a buffet with different stations for each food type, such as salad, meat, seafood, or dessert.
Choosing a catering service for Christmas events will be one of, if not the most important thing on your to-do list. Food is what makes the silly season so fun, isn't it? A festive meal, festive drinks, and tasty treats will leave everyone with a smile on their face.
Not sure where to start? Here are the types of Christmas catering you should consider for your office holiday party.
Buffet Catering
For a lot of people, buffets are their "comfort zone." Caterers can serve any food at a buffet, and dishes are served on one or two long tables. An alternative to plated dinners, it's perfect for a large office party. It's an excellent opportunity for everyone to talk and have fun together. In the meantime, they can choose from a delectable selection of expertly prepared meals or wait for an attendant to serve them.
A buffet catering sets up food stations. Each station will usually serve a single kind of food. However, you could set up multiple stations of different types of food, like meat, sides, and dessert. Another option is to have each station serve a different ethnic style of food.
Barbecue Catering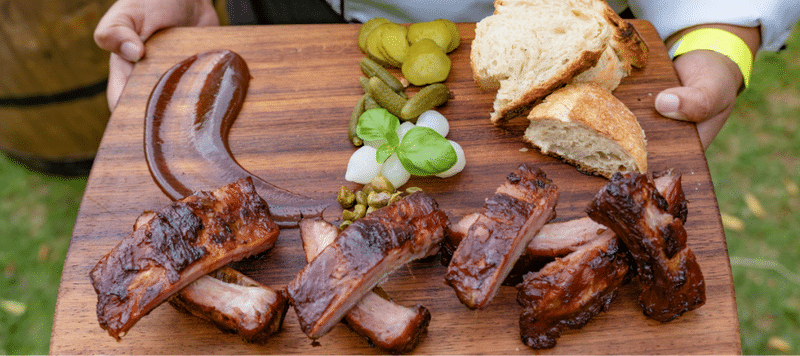 BBQ catering services are constantly in high demand. This premise is due to the increased popularity of casual dining. Preparing for an event, such as your office Christmas party, is imperative. It's a reasonably simple method to have a great time eating delicious meals.
This catering form is ideal if you intend to hold your company party outdoors. As a result, your employees will not only appreciate the delicious food and drinks, but they will also enjoy the company of their colleagues while indulging in the outdoor ambiance
Cocktail Party Catering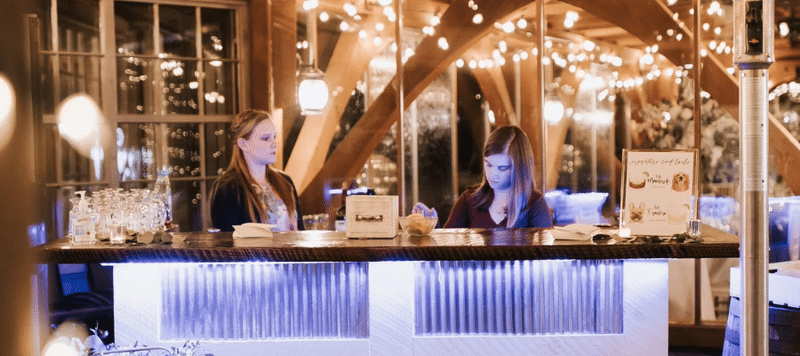 Cocktail parties can be casual or formal, stylish and sophisticated, or laid-back and low-key. The décor or theme of the party isn't nearly as important as having a good time with your colleagues and eating and drinking excellent food and drinks.
The main goal of your cocktail party is to socialize, not to serve a wide variety of mixed cocktails. Your guests could just as quickly go to a bar for the latter. This catering style is ideal if you are planning a formal office Christmas party for your employees and potential clients.
Finger Food Catering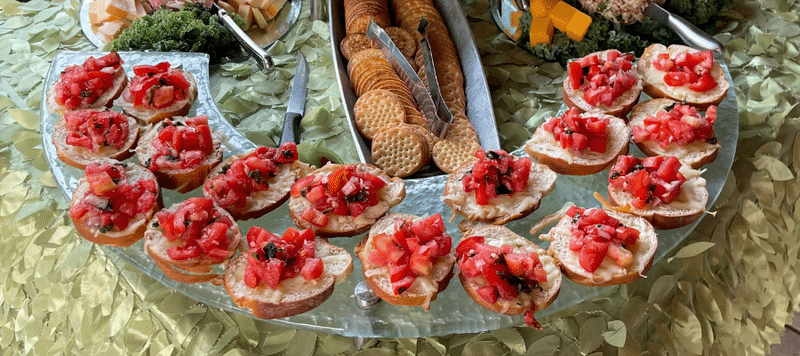 Catering finger food offers a wide variety of options. Choose from cookies to sausage rolls and other savory treats for the perfect finger foods for your office Christmas party.
Your guests will appreciate the unique experience of finger food. Eating with your hands may enhance your dining experience and make the food taste better. Furthermore, it's a convenient and affordable catering option if your office Christmas party budget is limited.
Formal Luncheon or Dinner Catering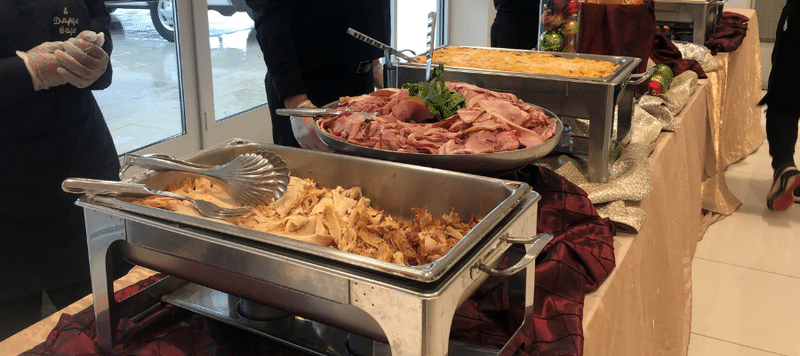 Throwing an office Christmas party can also be done formally. If you have the funds to make it happen, you can hire a caterer to help you plan for a formal luncheon or dinner party for your employees.
The food in this type of catering can be served platted or by course of a meal. It depends on how formal or elegant you want your party to be. Just make sure not to forget to serve good wine that your guests can enjoy along with the fantastic meal you are planning to make.
Feasting Platters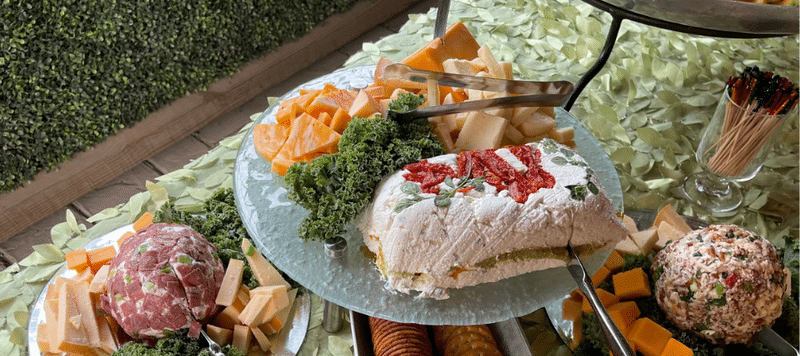 Un-complicate your holiday preparations and save your energy spending time with your loved ones. Instead, allow yourself to relax and delegate the tedious work to the pros. For example, this Christmas, ordering your feasting platter from a catering service can be a lifesaver.
You don't have to go to all the trouble to throw a memorable office Christmas party for your employees. All you have to do is decide what kind of food you want to serve at your party and the caterers will take care of the rest.
Holiday Sweets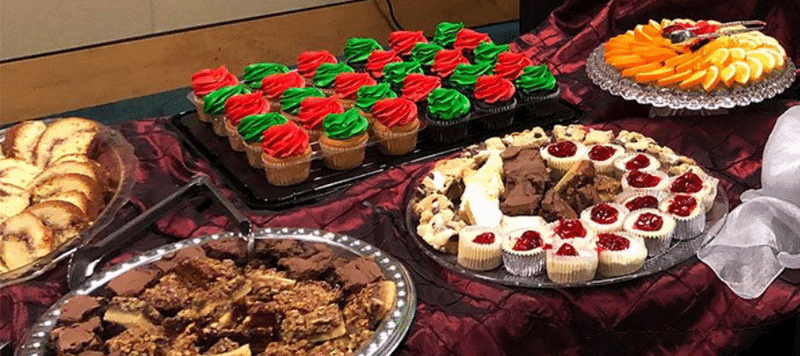 The month of December is ideal for indulging in dessert. From festive holiday cakes and chocolate delights to serving after an epic Christmas party feast, there's something for everyone.
When planning an office Christmas party, don't forget to include holiday sweets. This setup will complete the season's flavor, and serving sweets for those with a sweet tooth will never go wrong.
Needing a Caterer for Your Office Christmas Party?
A Delightful Bitefull Catering has been serving corporate and social events in the metro Atlanta area since 1989. Organizing your upcoming office Christmas catering party with us will be one of the best decisions you will make. We dedicated ourselves to giving only the best for your employees to ensure they will have the most memorable office Christmas party of their lives.
So, what are you waiting for? Contact us now! Our staff of professionals is waiting for you so that we can discuss the details!