With the end of the year fast approaching, it's time to think about New Years Eve party ideas. It's not as simple as popping a bottle and calling it a night. You should go all out this year if you're throwing a New Year's Eve party or pregame.
Choosing a theme for your New Year's Eve party and having several ideas will help establish the tone for the entire evening. New Year's Eve is a fun and exciting time when people reminisce on the previous year while planning new memories with their loved ones. Your party's style should reflect this distinct mood from beginning to end, with a festive theme.
So, if you're running out of fresh ideas this year, count yourself lucky: we've compiled a list of the best, most creative New Year's Eve party ideas for a night you and your guests will never forget. Whether you're planning a fancy dinner party for your loved ones or a low-key party, these fantastic party ideas will keep the party going till midnight.
Give Your New Year's Eve Party a Theme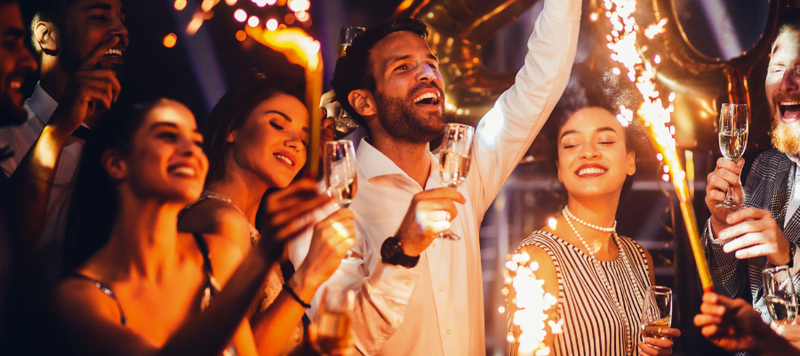 You can make a night of it wherever and however you choose to watch the ball drop on New Year's Eve with unique and catchy New Years Eve party ideas. A theme can help set your party's tone and make it more enjoyable.
You're in luck if you want to have a themed New Year's Eve party this year. Here are some of our favorite theme party ideas that will have your guests talking and having a good time all night.
Masquerade Party – An alluring masquerade ball party theme will add some charisma to your New Year's Eve party. Masquerade parties are always in trend and are typically very formal. You can provide masks to attendees or urge them to make their own.
Bohemian Party – Want to throw the most Instagrammable New Year's Eve party you've ever seen? Go for a bohemian-themed party with a hint of glitz. Feathers, plush floor seating, and gold accents are all on the list.
Black Light Party – Kids and teenagers love blacklight parties, known as "glow" parties. Cover your windows with black construction paper and replace your ordinary light bulbs with black light bulbs to make this party a success.
Disco Party Theme – If you and your guests enjoy shaking your legs on the dance floor on New Year's Eve, the Disco Party theme is perfect. With this theme set on, you can dance till your feet hurt and the ball drops.
Prepare Party Games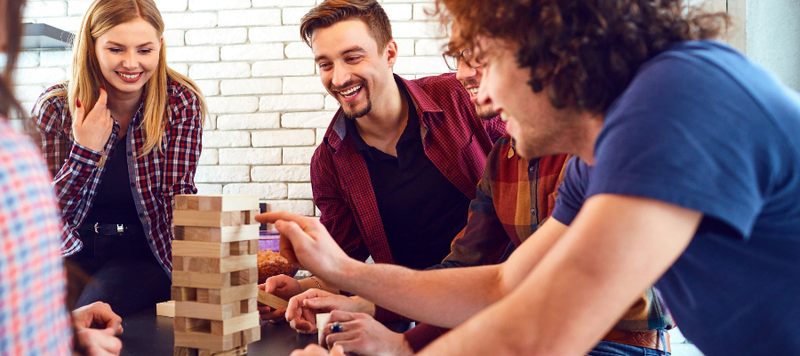 A good, old-fashioned board game will get the party started. If you're celebrating in person with family and friends, Scrabble and Yahtzee are always fun, but Pictionary is a must if you're playing over Zoom. Jenga is a fun option, too!
Sequins, glitter, and a wild night out are not always how your New Year's party should be celebrated. Invite your friends and family over for a relaxing evening at home, complete with festive winter decor and various board games to choose from.
Create Instagrammable Wall Art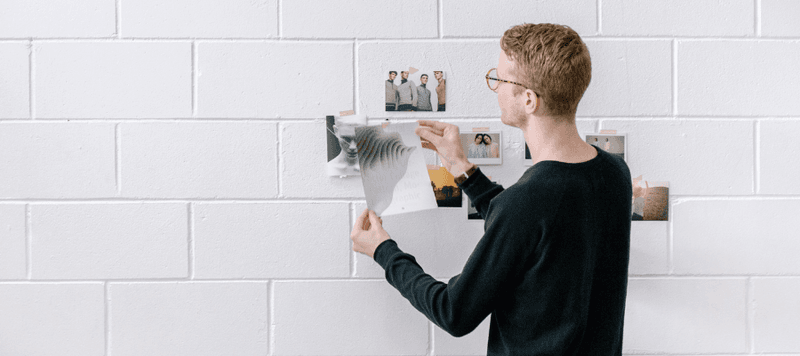 There are many New Years Eve party ideas you can do to get creative with your walls this coming New Year's eve. Below are some of the ideas you can do to have an instagrammable wall where your guest can take a photo to capture the moment.
Countdown Wall – Another cute photo wall concept! The countdown is an integral part of the New Year's Eve ritual, and this simple backdrop is the ideal way to ring in the New Year.
New Year's Resolution Wall – With a New Year's Eve resolution wall, you can challenge your guests to resolve while also creating some creative wall decor. Invite your visitors to write down their New Year's resolutions or goals and post them to your New Year's resolution wall. Save a photo at the end of the night to remember it at the end of the year.
Don't Forget the Sparklers!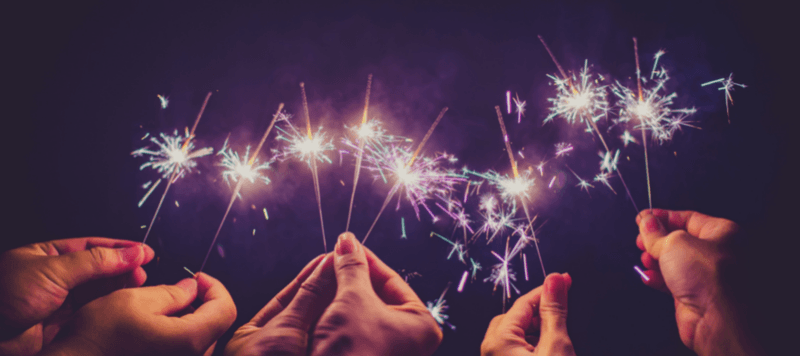 If there's one thing you can count on, it's that you'll need a plan in place when the clock strikes Midnight! Along with a champagne toast, sparklers are an excellent addition and can make for a stunning photo opp.
Set Up a Bar
A New Year's party is not complete without a set of drinks for you and your guests. Below are some bars that you must not forget to prepare during your party.
Champagne Bar – On New Year's Eve, champagne toasts are customary. A champagne bar with lots of bubbly can help ensure that everyone gets a chance to express their thoughts.
Sangria Bar – If you're missing the summer as much as I do, set up a tropical-themed sangria bar instead of champagne. Everyone will be fantasizing about going to the beach.
Cocktail Bar – Want to keep your visitors occupied as they await the big event? Bring in a pro or take the help of a buddy to teach everyone how to prepare drinks.
Serve Delicious Food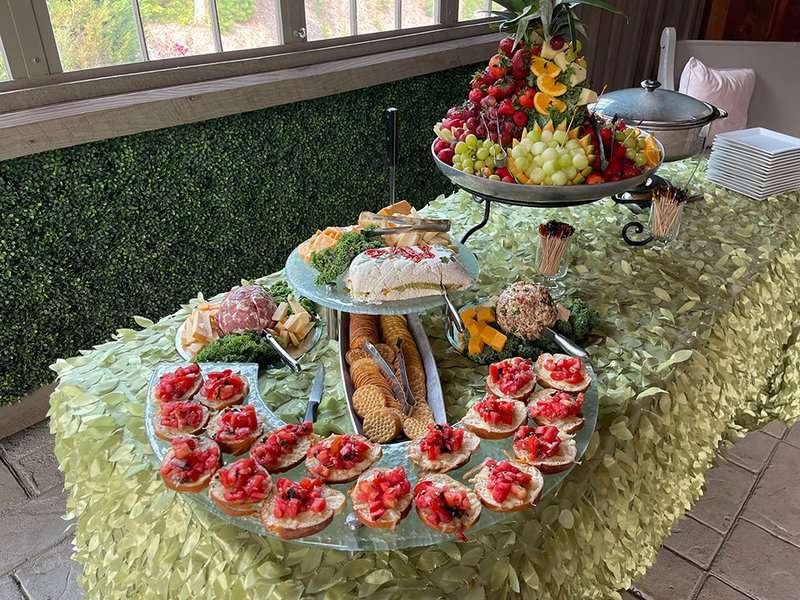 No New Year's Eve celebration is complete without a few tasty bites. Below are some ideas of what you can prepare for your New Year's Eve party.
New Year's Eve Appetizers – Unless you're throwing a traditional New Year's Eve dinner party, keep the refreshments light. Serve a variety of delectable appetizers to your guests, along with a variety of dips, crackers, cheese, and fruit.
Bite-sized Classics – Consider serving bite-sized versions of American favorites like sliders, fries, mac & cheese cups, mini pizzas, and other tasty finger foods at your New Year's Eve party.
Fondue – A delicious fondue will add some warmth to your New Year's party. To have a cheesy feast, gather your friends and family around the pot, or change the cheese for chocolate for a dessert option.
Buffet – If you are hosting a big NYE party, the buffet is perfect. You can prepare a different assortment of dishes and just let your guests pick whatever they want on their own, or you may as well hire a server to serve your guests.
Host a Sparkling New Year's Eve Party with Us!
Even if the year is coming to an end, there's still time to make unforgettable memories at your New Year's Eve party. You can celebrate the New Year the way you want with us, whether it's with a full-fledged feast or simple finger foods, tasty cocktails, or alcohol-free drinks.
At A Delightful Biteful Catering, we are known for the quality of food services that we provide and our commitment to meeting our clients' every event need. Contact us now and let us make your New Year's Eve party a success and memorable this year.