Corporate events and lunches call for a little extra effort and thought in order to make sure that everyone present is able to enjoy the meal. From business meetings to teambuilding exercises, there are a few key tips to help ensure corporate lunch catering is enjoyable and hassle-free. In this blog post, we'll discuss the key elements of successful corporate lunch catering to help ensure you not only provide delicious food but an enjoyable experience for each and every person in attendance.
What Makes Corporate Lunch Catering Successful?
Fresh, Quality Food
The key to a successful corporate lunch catering experience is quality food. When selecting a corporate caterer, be sure to ask about the type of food they serve and the methods used for preparation. Fresh ingredients, freshly cooked meals, delicious desserts, and agreeable presentation are must-haves.
Great Service
Corporate lunch catering is all about providing an enjoyable experience, not just delivering food. It's important to find a caterer that provides great customer service, along with attentive waitstaff who can attend to any tastes or dietary requirements.
Variety and Flexibility
Corporate lunches are often shared among many people, so a variety of food is necessary. Choose a caterer that offers a range of dishes and can easily accommodate special orders.
Cost Efficiency
Finding a corporate caterer that provides excellent value for money is essential. Look for caterers that can provide meals that are both cost-effective and top quality.
Health and Safety
As corporate lunches are usually held in busy workplaces, it's important that the caterer follows health and safety laws. Make sure to ask about their policies and procedures, as well as any certifications they may hold.
Choose the Right Type of Food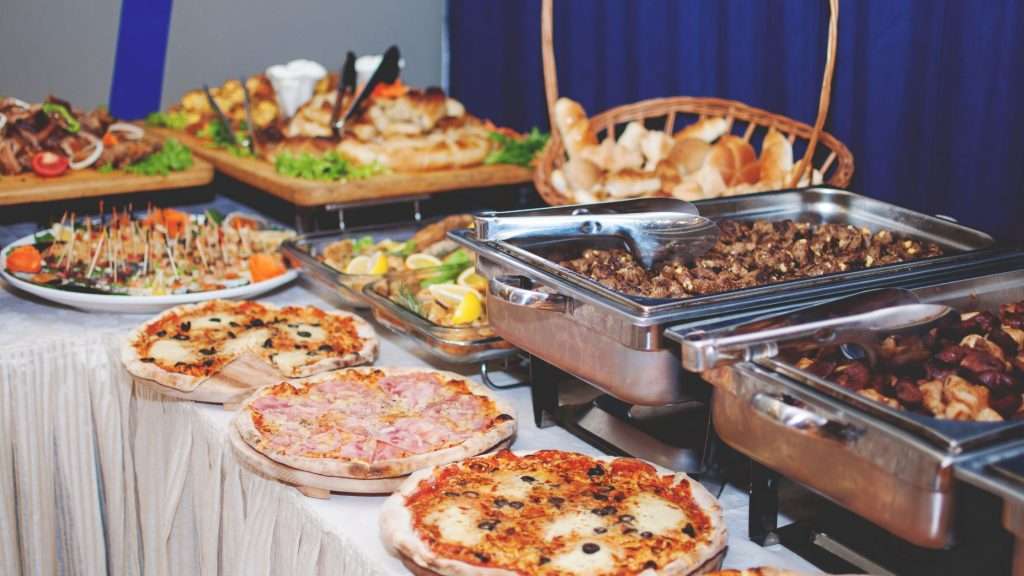 The type of food you choose to eat depends on several factors, including your dietary restrictions, personal preferences, budget, and occasion. It's important to choose foods that provide the essential nutrients your body needs while also meeting your individual taste preferences.
If you are trying to maintain a healthy diet, opt for fruits, vegetables, whole grains, lean proteins, dairy, and healthy fats. If you have dietary restrictions, such as food allergies or intolerances, be sure to coordinate with your caterer carefully and avoid any foods that may cause a reaction.
If you are looking for something special for a special occasion, consider dishes that are made with fresh, high-quality ingredients or explore different styles of cuisine from around the world. You can also look for recipes that have been adapted to meet certain dietary needs.
Work with a Professional Caterer
Working with a professional caterer requires communication and collaboration. The caterer will need to understand the event and its requirements, such as the budget, the type of food, any special dietary needs, and the timeline. It is important to provide detailed information so that the caterer can create a menu and accurately estimate the cost. The caterer should also provide options for presentation, such as a buffet or plated meals.
Clear expectations should be discussed, such as how the food will be served, what equipment is needed, if linens are provided, and if there is a need for additional staff. Additionally, it is important to discuss all safety protocols, as well as any relevant licensing and insurance regulations. Once the details are established and agreed upon, the caterer will be able to begin preparing the food and setting up the event.
Plan for Seating and Placesettings
Here's how you can talk with your caterers to plan out how guests will be seated during the event:
Seating
1. Have guests choose their seats in advance by providing them with a seating chart when they RSVP.
2. Ensure that the seating chart is balanced in terms of gender and age so that guests can easily converse with other guests.
3. Separate couples or families who are sitting together by adding empty chairs between them.
4. Consider spacing out tables so that the guests can mingle.
Placesettings
1. Place a dinner plate, salad plate, and bread plate at each setting.
2. Place one set of silverware and a napkin at each setting.
3. Include a water glass, wine glass, and coffee cup as needed.
4. Place a centerpiece in the middle of the table to add interest.
5. Provide place name cards for each guest, either handwritten or printed.
Leave the Food Prep to Your Caterers
When it comes to planning a successful event, the food is one of the most important elements. If you are having a catered event, it is important to choose a reputable caterer that can handle all of the food prep and delivery to ensure your guests have a great experience.
Working with a caterer can be a great way to ensure that all the details of your corporate lunch catering are taken care of. From providing the appropriate place settings to creating an engaging atmosphere, your caterer can help you make a lasting impression on your guests. Additionally, by leaving the food prep to your caterer, you can focus on creating an enjoyable experience for your guests through entertainment, decorations, and ambiance.
Leave the food prep to your caterers and focus on making the event a success by providing your guests with great entertainment, atmosphere and decorations. With the right catering service and thoughtful touches, you are sure to please everyone at your corporate lunch catering.
Offer Additional Amenities
Beyond the presentation, additional amenities can be offered to corporate lunch catering guests. These can include napkins, condiments like ketchup, mustard, and mayonnaise, cutlery, paper plates, reusable plates and cups, and ice to keep drinks cool. Placing disposable wipes at the buffet table is a nice touch and ensures that guests have easy access to clean their hands after eating.
Offering guests a selection of beverages such as water, coffee, tea, and other soft drinks can also make the meal more enjoyable. With just a few simple tweaks, corporate caterers can give their guests an even more enjoyable experience.
Planning a Corporate Lunch Catering Soon?
If you are planning a corporate lunch catering event soon, it is important to ensure that you have everything you need for a successful event. From selecting the right catering service to offering guests a selection of additional amenities, take the time to guarantee that your guests will have an enjoyable experience.
Work with caterers from A Delightful Bitefull catering to establish the best menu items and decorations to make your event a success. When your guests leave, they will be sure to have not only been well-fed, but also well-taken care of! Let's collaborate today!