Ahoy, Mardi Gras lovers! It's time to get your party on! Whether you're planning a big or small celebration, nothing brings friends and family together quite like a Mardi Gras celebration. From food and fun to music and drinks, this time-honored tradition promises an evening of entertainment and laughter. So, if you're looking for creative Mardi Gras party ideas for your upcoming bash, look no further.
We've rounded up five fun and exciting party ideas to liven up your celebration and make it the talk of the town. Forget outdated party themes and decorations – let the good times roll with the perfect blend of festive and traditional Mardi Gras activities. With these ideas, your guests are sure to have a blast and go home feeling satisfied with a night spent celebrating the spirit of New Orleans in style!
Set the Stage with Colorful Decorations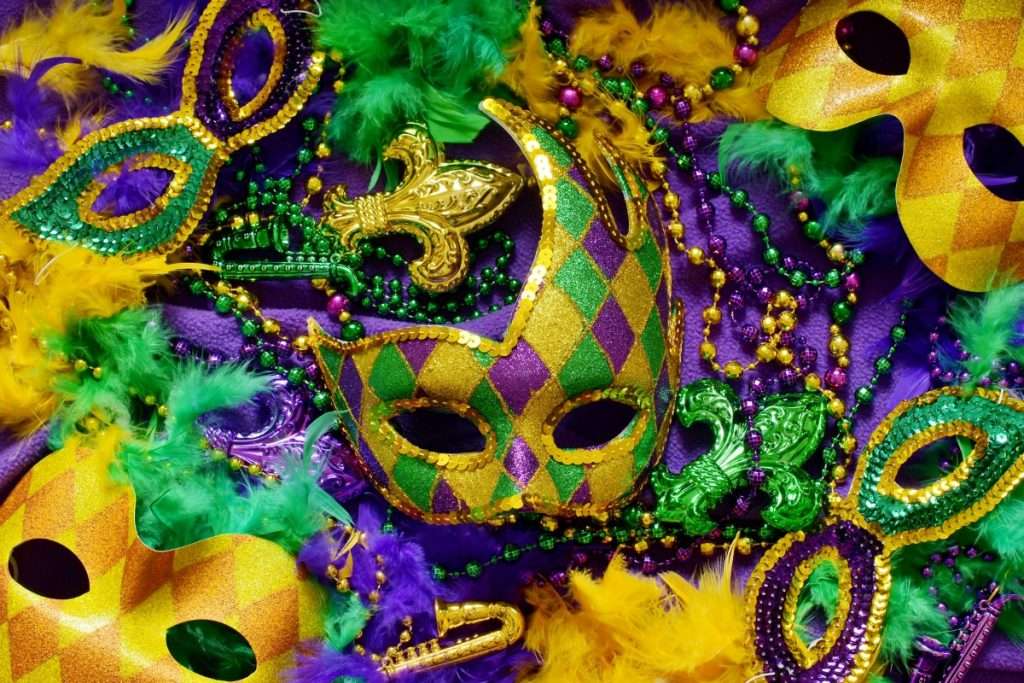 Make your Mardi Gras celebration a party to remember with stunning decorations! Nothing sets the tone for a rousing Mardi Gras celebration quite like colorful and festive decorations. Use streamers and bunting in traditional Mardi Gras colors – purple, green, and gold – to bring the party to life. Hang balloons in vibrant hues from the ceiling and have fun arranging them in creative shapes and patterns.
Don't forget to top off your décor with eye-catching Mardi Gras masks, beads, and other accessories that will set your Mardi Gras festivities apart from the rest. With these simple and inexpensive décor ideas, you're sure to make your Mardi Gras party a vibrant and unforgettable experience!
Music, Food, and Drinks for a Festive Vibe
Take your Mardi Gras celebration to the next level with this dynamic trio of music, food, and drinks—guaranteed to get you in the spirit! With plenty of options for each, you're sure to create an exciting and enjoyable atmosphere for everyone to enjoy.
For the music portion of your Mardi Gras celebration, select songs that will get everyone in the festive mood. Whether you're into upbeat Zydeco tunes, laid-back jazz, or other traditional tunes, adding music to your party can help create a fun and vibrant atmosphere. Don't forget to add a few classic Mardi Gras hits like "Iko Iko" or "Hey Pocky A-Way" to really get the party started!
Of course, no party would be complete without delicious food! Put together a unique Mardi Gras meal by incorporating classic Louisiana dishes like gumbo, jambalaya, and po'boys to really get a taste of the unique culture. You can also try adding some vibrant colors to your food selection by making up colorful dishes such as King Cake and sno-balls. Yum!
It wouldn't be a Mardi Gras celebration without lots of refreshing drinks. Create a signature cocktail tailored to the occasion, like a Hurricane or a Mardi Gras Punch. You can even provide non-alcoholic options with spirited flavors like colorful lemonade or homemade root beer. And don't forget to provide plenty of drinkware so your guests can properly cheer their drinks and join in the festivities!
Consider a Classic King Cake Party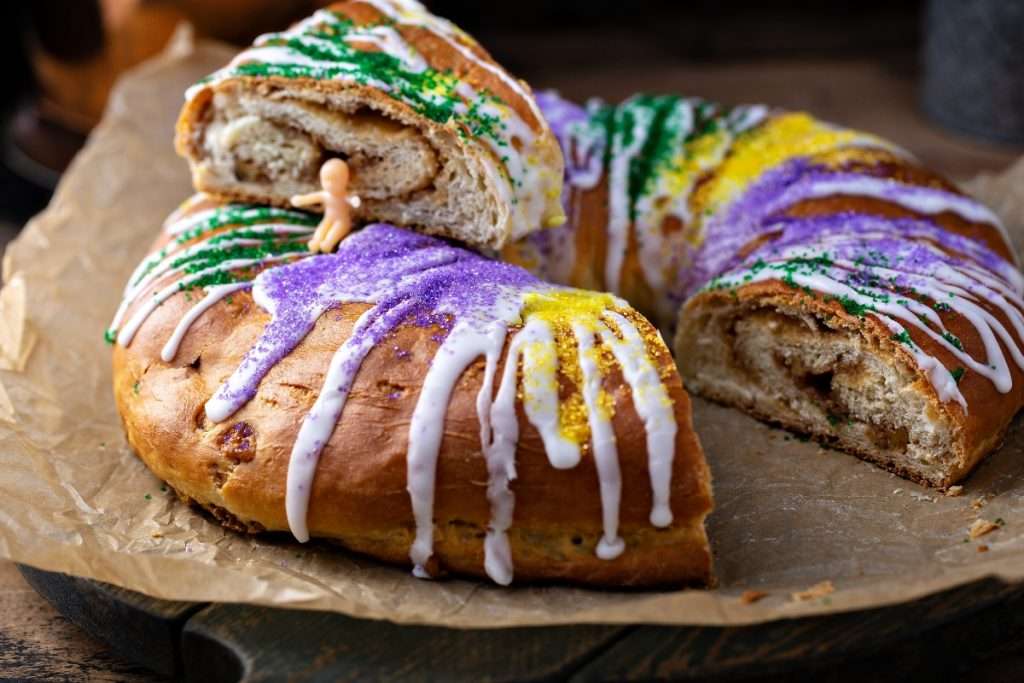 Get your guests in the Mardi Gras spirit with a classic King Cake Party! One of the key components of Mardi Gras celebrations is the King Cake party, which is a festive gathering with food, drinks, and music. The King Cake is a sweet, round pastry decorated in the traditional Mardi Gras colors of green, purple, and gold.
A small plastic baby figurine is often hidden inside the cake, and whoever finds the baby in their slice is said to have good luck and is often expected to host the next Mardi Gras party. King Cake parties are usually held in the weeks leading up to Mardi Gras and are a way for friends and family to come together and enjoy the festivities.
Celebrating with a King Cake is a centuries-old tradition for Mardi Gras – it's the iconic symbol of the event. Making it the centerpiece of your Mardi Gras party is sure to provide an enjoyable and festive atmosphere. Here are some fun ideas to make your King Cake party a success:
Start the show by giving each guest one of the traditional purple, green, and gold beads upon arrival. These necklaces can be used as part of your fun decorations or given away as souvenirs.
Set up a King Cake buffet with an assortment of different flavored King Cakes for your guests to choose from. Consider more creative options like peanut butter, chocolate, and caramel varieties.
To really capture the spirit of Mardi Gras, decorate your space with masks, feathers, streamers, and plenty of beads!
Don't forget the King cake, of course! As tradition goes, finding the baby in a Mardi Gras King Cake is considered good luck. The person who finds the baby in their slice of cake is said to have the responsibility of hosting the next Mardi Gras celebration or bringing the King Cake to the next gathering. In some traditions, it is also believed that whoever finds the baby will have good luck for the rest of the year.

With a little bit of planning, you and your guests will be eating, drinking, and celebrating the festivities in no time!
Get Creative with Games and Activities
Let the Fun Begin!

Mardi Gras is all about having a good time and celebrating with friends and family! Whether you're having a large or small gathering, you'll want to make sure your party has plenty of exciting activities to keep everyone entertained.
So if you're looking for fun and unique Mardi Gras party ideas for your celebration, we've put together a few creative suggestions that will help liven up the festivities. From classic games to imaginative decorating ideas, these activity ideas are sure to add a bit of excitement to your Mardi Gras celebration!
When it comes to coming up with fun activities to do at your Mardi Gras party, the possibilities are nearly endless. For starters, why not try some classic party games? Activities like Musical Chairs, Charades, and Pictionary can be great conversation starters and will keep everyone laughing. Adjusting these games to suit a Mardi Gras theme is easy; just switch out the traditional music, topics, and props for something more festive, such as film scores from movies set in New Orleans, or props in purple, green, and gold.
For something a little different, consider setting up a Mardi Gras Parade Station. Hang up colorful banners of your own design and provide guests with masks, beads, and other festive items to march around in a parade. You can even print out Mardi Gras-inspired name tags for each guest to make the parade fun and personalized.
Wrap Up the Evening with a Toast to Mardi Gras or a Mini Parade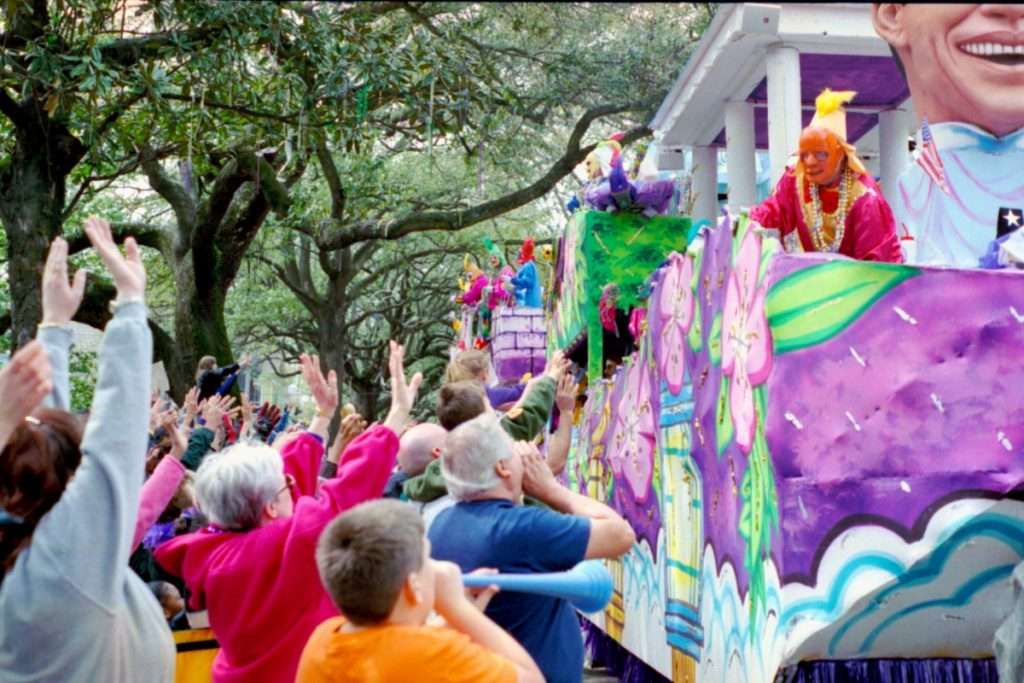 The perfect ending to any Mardi Gras party is a toast or mini parade. Why not close out the traditional celebration with a festive and meaningful gesture? Whether you choose to make a fun toast to honor the spirit of Mardi Gras or create a small parade around the house, your guests will be sure to appreciate the effort! With just a few items, you can easily add some extra excitement to your Mardi Gras party and make it one to remember.
Toast: Bring a few bottles of champagne or sparkling cider and a variety of glasses for your guests to enjoy. Include a decorative tray that holds the glasses and a special trinket or charm for each guest for the toast. Have an appointed speaker deliver an inspiring toast about Mardi Gras and the celebration of life with all its surprises.
Parade: Gather your guests and have them decorate their own small parade items such as mini flags, sashes, and signs. Polka music or traditional Mardi Gras music will provide the perfect ambiance for the parade. Designate a leader who will lead the group around the room or house and end with a group photo or a selfie.
Either way, your party will be one to remember. Place your drinks and decorations strategically around the room so they can be easily picked up after the parade or toast. Don't forget the beads and masks to make your celebration even more magical. With just a few extra touches, your Mardi Gras party will be a hit!
Soaking Up the Fun: Celebrate Mardi Gras in Style!
Mardi Gras is a time for celebration and excitement, and with the right ideas, you can make your Mardi Gras party one to remember. From the right decorations to delicious food, there are plenty of ways to get into the spirit of Mardi Gras and have some fun. With these five ideas, you can create a festive atmosphere and kick off your celebration in style. So get ready to don your masks, turn up the music, and enjoy all that the festive season has to offer! Laissez les bons temps rouler!
For the best food and drink at your party, a professional catering company like A Delightful Bitefull is perfect to take the headache out of your party refreshments. We have an expert team fully experienced in catering events of all types and sizes, so all you need to do is have fun while we take care of the heavy lifting. Give us a call at (770) 565-4146 and let's talk about how we can make your next event a huge hit!