When it comes to celebrating with family and friends, an engagement party is the perfect way to mark the start of an exciting journey. Whether you're a social butterfly who loves to entertain or an organized couple looking for creative ways to make your special day unforgettable, there are plenty of unique ideas to choose from. From classic themes to unique decor and customized activities, we've rounded up 10 creative engagement party ideas that will add an extra dose of fun to your celebration.
No matter what style of engagement you're planning, one of the most important things to consider is how you can personalize the event. Whether you're planning an intimate gathering or a grand celebration, these creative engagement party ideas will make your day truly memorable. Let's take a look at how you can make your engagement extra special.
1. Host a Theme Party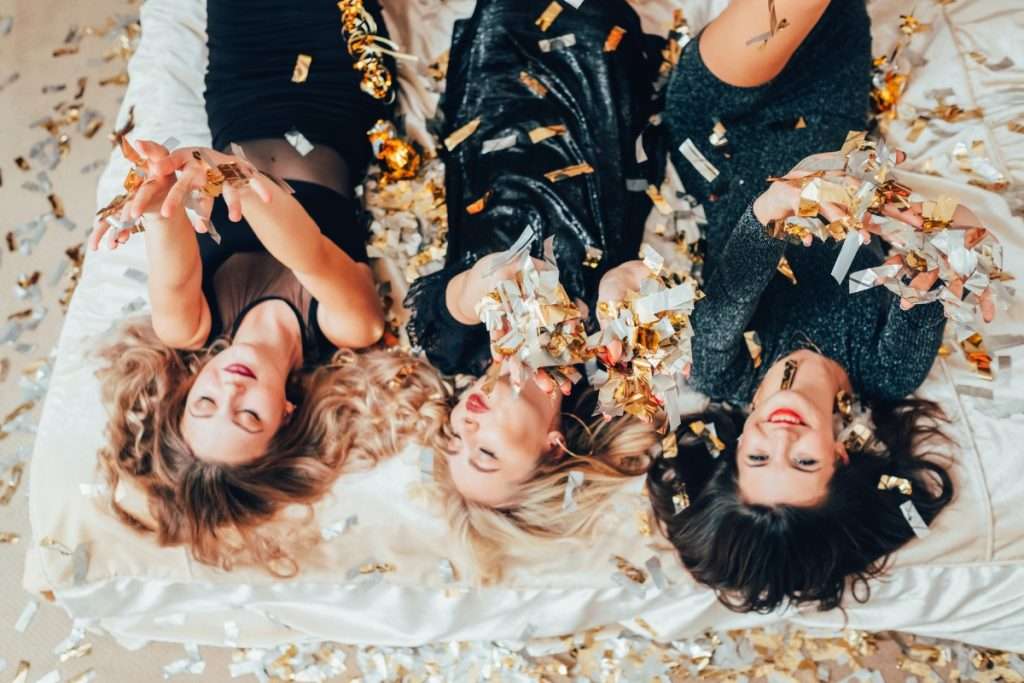 Hosting a themed engagement party can be a great way to make your special celebration even more memorable. Whether you coordinate colors, decorate with props and accessories, or dress up in costumes, the possibilities for adding creative touches to your engagement party are endless. Here are a few ideas to help get you started.
Tropical-themed engagement party: Tropical decorations, like faux palm trees and beach umbrellas, can liven up an ordinary venue into a fun and whimsical setting. Have all of your guests dress in bright colors and take pictures with inflatable palm trees, flamingos, and more!
Sports-themed party: Do you and your future spouse prefer to watch the big game? Celebrate with a sports-themed engagement party! Buy jerseys with your last names and colors that match your school or favorite teams and recreate your favorite tailgate snacks. Partygoers can make their own mini foam finger, airbrush their faces with team and colors, and pose in front of a photo backdrop.
Great Gatsby 1920s-themed engagement party: For a glamorous and chic affair, a Great Gatsby engagement party will wow all your guests. Have everyone dress up in flapper dresses and tuxedos, enjoy hors d'oeuvres and cocktails, and dance to jazz music. Fill the venue with vintage decor and create a photo booth with props such as feather boas and top hats.
Cowboy-themed engagement party: If you both love the Wild West, an old-style cowboy engagement party is the perfect way to celebrate. Decorate the venue with saloon-style accessories and serve a Southern-style barbecue feast. You and your guests can dress up the part, complete with cowboy hats, boots, and bandanas.
Masquerade ball: Invite your guests to a masquerade ball for a magical evening. Ask them to dress in elegant costumes and masks and have a variety of masks, as well as feathers and other decorations, available for guests to pick from. Also, have a professional photographer to capture all the creative and unique moments!
These are just a few of the many creative ways to plan an unforgettable engagement party. A theme party is a great way to make your celebration stand out and keep everyone engaged throughout the evening.
2. Plan an Outdoor Celebration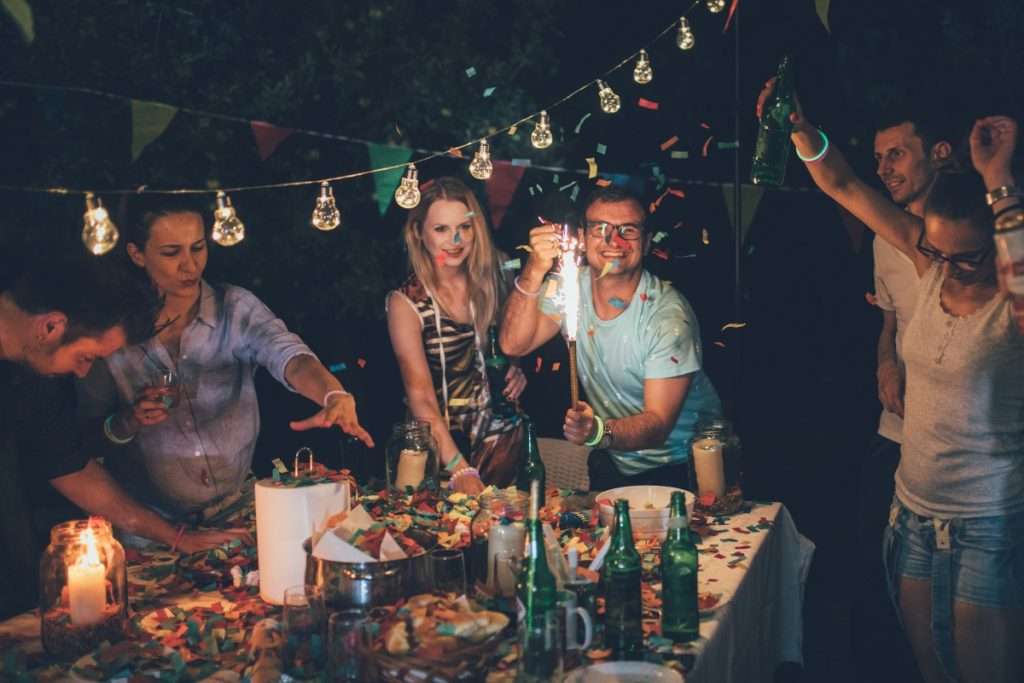 Planning an outdoor celebration for an engagement party is a great option for couples who want to involve the natural beauty of the outdoors into their special day. Ideas for outdoor engagement parties range from the simple to the more complex, but all should involve lots of fun and laughter if you plan them well.
Have a Picnic: A classic outdoor engagement celebration idea. Spread out a picnic blanket and have a feast in the park. Make sure to include plenty of delicious food, beverages, and a few outdoor games like bocce or badminton.
Camping Trip: Spend the weekend in the great outdoors with your closest family and friends. Spend the day telling stories by the fire, playing in the lake, and enjoying the beautiful landscape.
Outdoor Movies: Set up a projector and some lawn chairs in your backyard and enjoy an outdoor movie screening. Include plenty of popcorn and snacks, as well as blankets to keep everyone warm when the sun sets.
Backyard Barbecue: Set up a barbecue in your backyard and make it a cook-off competition. Whether you decide to make burgers, steak, or tacos, let your guests show off their skills and have a blast.
Scavenger Hunt: Make your engagement party a little more dynamic by organizing a scavenger hunt. Create clues around your backyard and have guests search for them. When they're finished, reward them with some ice cream or a cold beverage.
3. Incorporate Special Entertainment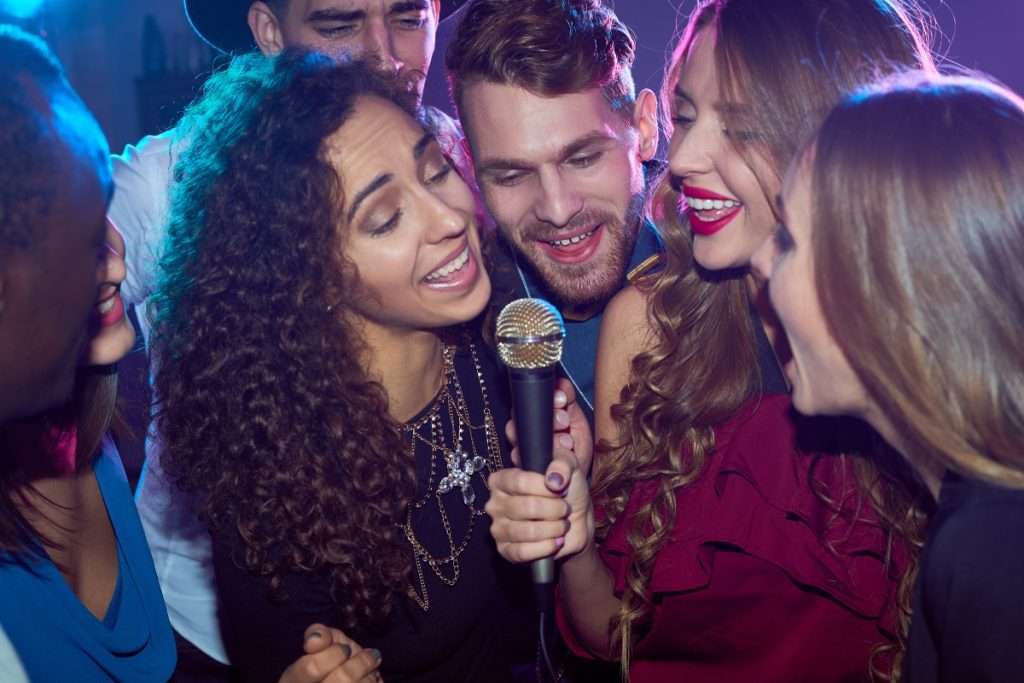 Incorporating special entertainment into your engagement party can make all the difference in creating an unforgettable celebration. Consider elevating your party with a mix of activities and surprises. Games, karaoke, live music — all of these options, and more, can add to the atmosphere, creating a joyful and memorable occasion.
Among the possibilities, live music is undeniably an exciting choice. A band or singer can liven up the event and keep the guests entertained, dancing, and singing along. Theme your music around the engaged couple's favorite genre and feature songs that celebrate their relationship — this will make the guests truly feel like they are part of the celebration.
For something more interactive, consider hosting a game night. Games like trivial pursuit, charades, and other party games can be an enjoyable way to involve your guests. Or, for a twist on a traditional game, create a custom version with questions that relate to the couple. This will give the guests a fun way to learn more about the engaged couple's story and show their appreciation and knowledge of their relationship.
Karaoke can also be an amazing addition to any engagement party. Whether you're indoors or out, you can rent a machine and microphone to give your guests an opportunity to showcase their singing skills. To make the event even more special, dedicate some of the songs to the couple before they take their turn.
No matter what option you choose, don't forget to include an extra surprise too. Whether it's a magician, fortune teller, or something else, adding a unique activity to your engagement party will be unforgettable for everyone involved.
4. Create a Photo Booth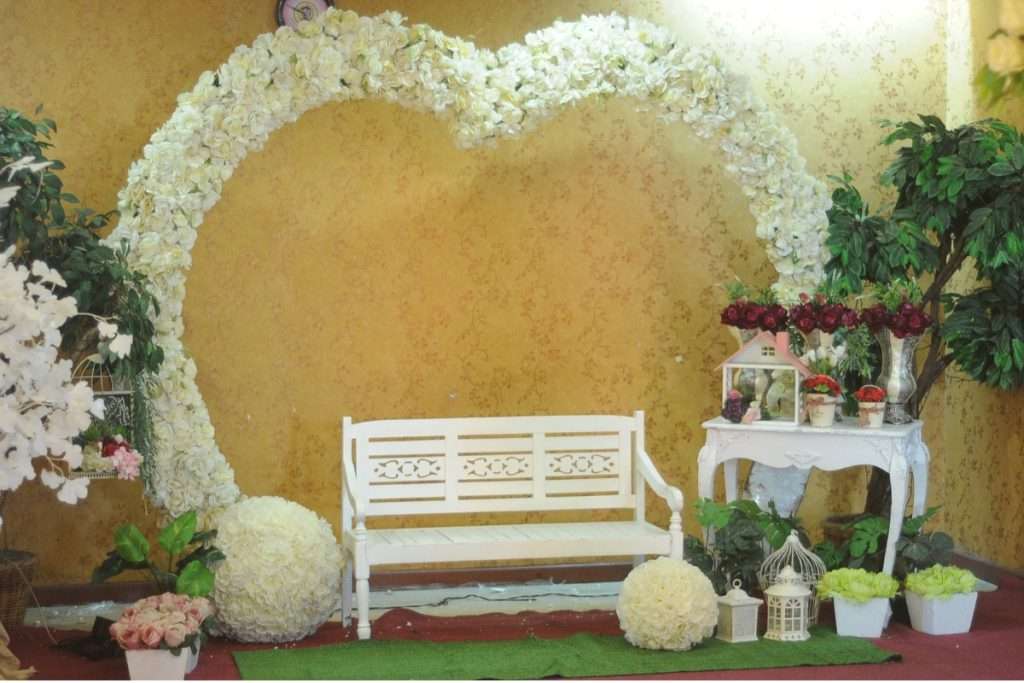 Creating a photo booth can be an exciting way to make your engagement party unforgettable. With an array of props, backdrops and props, you can create a stunning visual element for your celebration. To get the most out of your photo booth, follow these tips:
First, choose a spot that is well-lit. You don't want to have dull or blurry photos, so you'll want to make sure that your guests have plenty of light to take the best shots. You can use natural light or opt for artificial lighting like LED or studio lights.
Next, pick a variety of props and backdrops. From silly hats and hats to funny signs and costumes, there are plenty of fun options to choose from. If you don't want to purchase props, you can always create your own.
Also, create a backdrop for your photo booth. Whether it's a simple fabric or paper backdrop, or something more elaborate like a unique mural or wall art, you'll want to make sure that your background is creative and memorable.
Finally, make sure to have your camera ready! Have a friend or family member who can assist with taking the photos, or use a digital camera or cell phone. This way, your guests can share their photos on social media!
5. Send Out Beautiful Invitations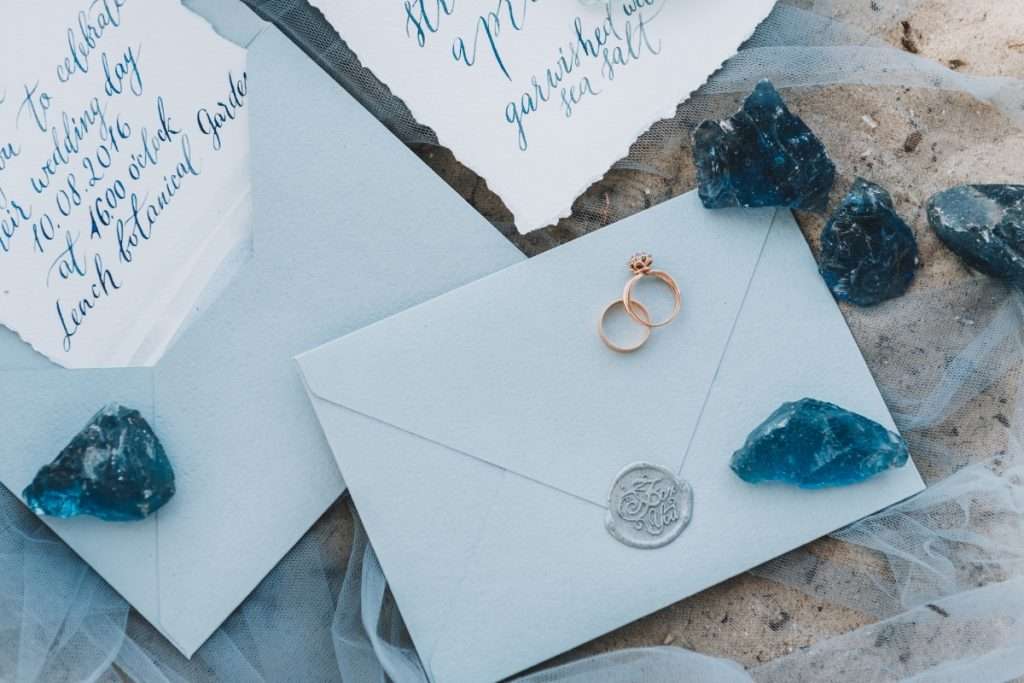 Invitations are the first impression your guests will get of your engagement party, so you want to make sure it's a good one! Select a style of invitations that will give your guests an idea of the tone of the party. If you are having a small affair, consider creative, handmade options with all the details written in calligraphy or elegant fonts. If you are hosting a larger gathering, look for pre-made invitation cards with a design that speaks to the theme of the party.
You should also include your name and your fiancé's name on the card, the date and time of the event, and the address. If there are any activities or dress codes, let your guests know early on so there are no surprises. Finally, make sure to send out your invitations several weeks before the party. This will give your guests enough time to put the date on their calendars and find the perfect outfit.
6. Add Fun Games and Activities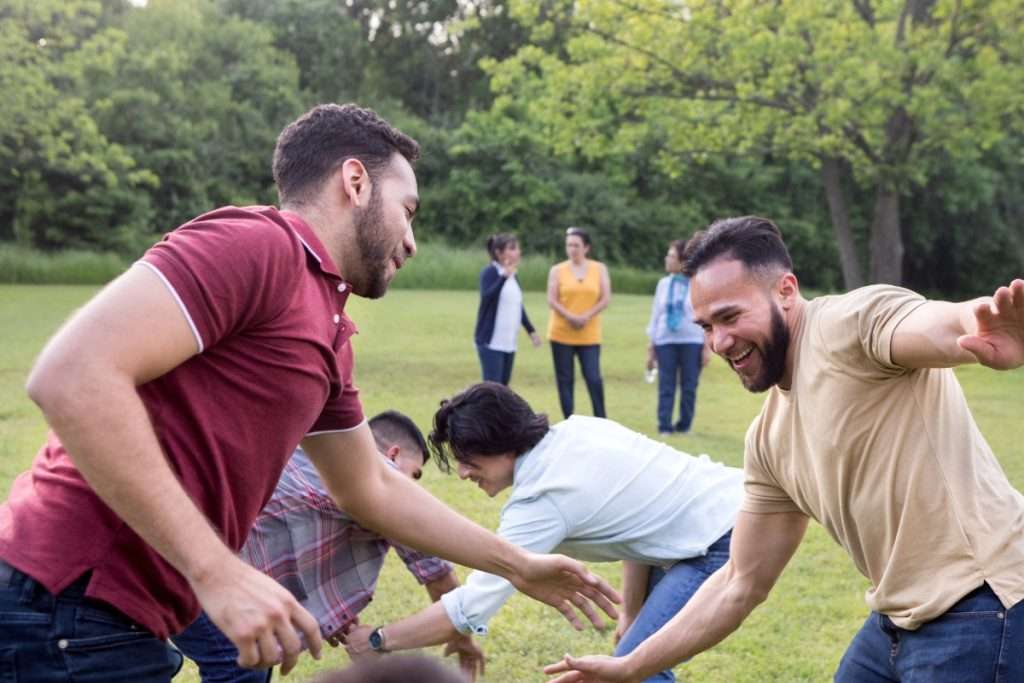 Adding a few fun games and activities to your engagement party can make your guests have an even more enjoyable time and help create an atmosphere of celebration that everyone will remember for years. Here are some of the most creative engagement party ideas when it comes to activities:
Create a Music Playlist: Ask your guests to create a special music playlist that reflects their own unique style. Have them leave it at the entrance of the party and then use it as background music for the entire evening. It's a perfect way to personalize the celebration and will be a hit with all of your guests.
Dance-Off: Split your guests into teams and have them create a dance to a song of the engaged couple's choice. This is a great way to get everyone moving and laughing.
Group Art: Design a special piece of art or mural with painter's tape or stencils and let your guests paint or draw whatever they want onto the canvas.
Couples Games: For something a little different, set up couples games that the newly engaged couple will have to compete in. Examples include things like carrying an egg on a spoon race or a dance-off between couples. These are all sure to get the competitive juices flowing!
7. Surprise Your Guests with a Gift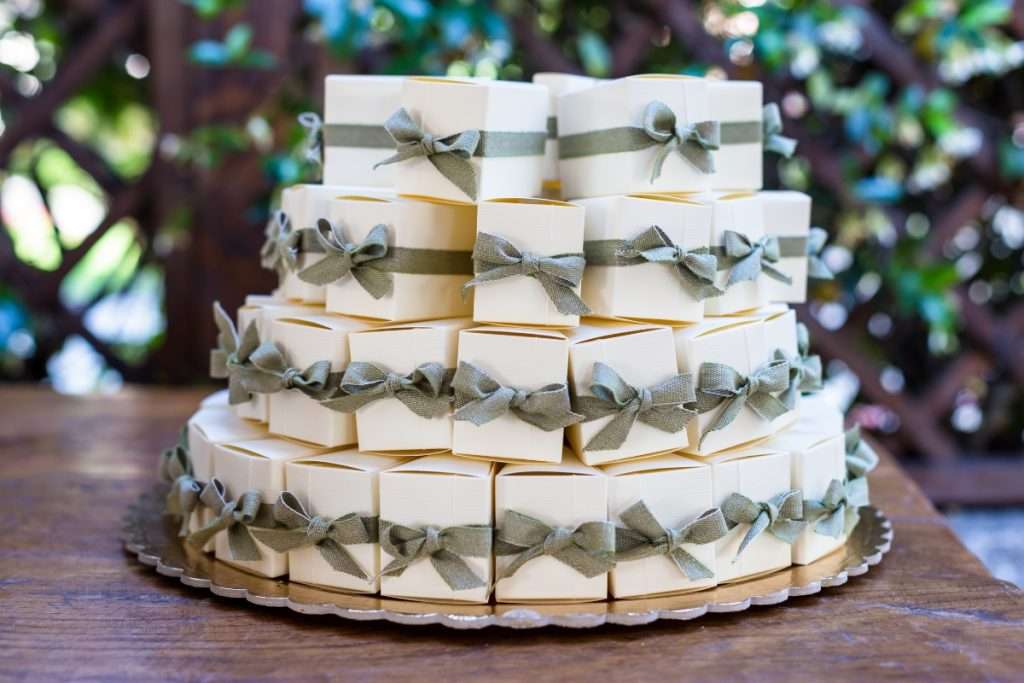 What better way to thank your guests for being a part of your special day than by surprising them with a thoughtful gift? Consider customizing small trinkets or tokens of gratitude that they can take home.
Choose something that speaks to the theme of the event or represents your personalities as a couple. An engagement party gift doesn't need to be expensive or extravagant, but your guests will appreciate a token of appreciation.
This could be something as simple as a personalized keychain or coaster. You can also give guests an activity book of fun ideas to do together as a couple. For example, if you'd like the guests to explore the local area, give them a guidebook of your city's hotspots. The surprise can certainly be tailored to the interests of you and your partner. Above all, make sure it's something you'd both be proud to give out.
8. Personalize Your Party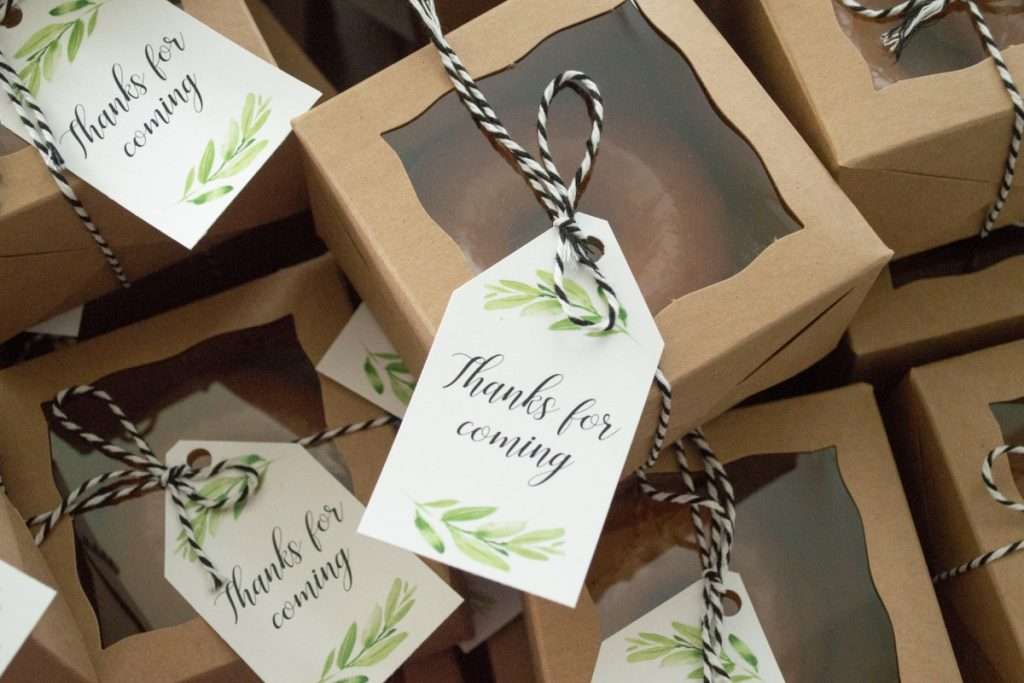 Personalizing your engagement party is a sure way to make it unforgettable. There are a variety of ways to add personal touches that will show your love and commitment to each other. From custom invitations to personalized décor, here are 8 creative engagement party ideas that will make your celebration stand out.
Custom Invitations: Sending custom-made, personalized invitations are a great way to start off your engagement party on the right foot. Have your invitation design reflect the theme of the engagement party, and include special touches such as your initials and photo.
Personalized Engagement Signage: Create a large personalized engagement sign and display it at the entrance to your party. Incorporate your photos, initials and wedding date to make the signage extra special. Not only will this give your engagement party a personal feel, it will also make for great Instagram-worthy photos.
Matching Party Favors: Give all your guests matching party favors in honor of your engagement. These can be anything from embroidered hats to customized wine glasses. Make sure to include special touches that represent your relationship.
Customized Food & Drinks: Get creative and serve customized food dishes and drinks. Have your favorite snacks- like mini pizzas or tacos- served on personalized platters with your initials. Make signature mocktails or cocktails with a special personalized label.
Handwritten Notes: Ask your friends and family to write you and your partner a special message that you can keep and look back on. Put the cards in a special box with your names on it, to hang in your future home as a decoration.
Wall of Love: Set up a wall of pictures featuring special moments in your relationship. Get your family and friends to post their favorite memories with the two of you.
9. Serve Creative Refreshments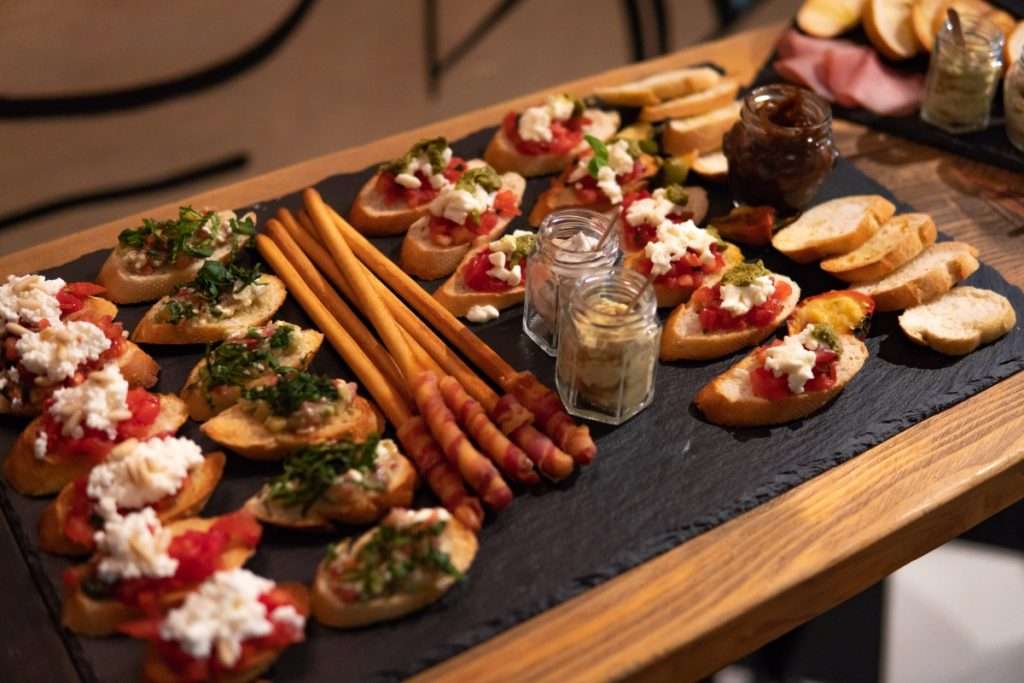 Refreshments are a major part of any celebration. For your engagement party, you can serve creative refreshments that will impress your guests and make your celebration unforgettable. Here are a few ideas to get you started:
Have a sundae bar: Set up a sundae bar with all the toppings. It's a great way for your guests to customize their own desserts and have fun.
Put out various bread options: Offering different bread options is a great way to add extra flavor and variety to your menu. Think focaccia, naan, flatbread, and more.
Offer small, shareable snacks: Finger foods are perfect for large groups. Place small plates around the party, filled with warm and cold dishes such as spring rolls and dips.
Set up an open bar: Offer beer and wine at an open bar. Add a personal touch by having signs with fun quotes or a hashtag related to your engagement.
Have an ice cream cart: A classic ice cream cart is a great nostalgic touch. Ask your ice cream vendor to make custom cups with personalized messages, such as your names and the wedding date.
Arrange for a food truck: Food trucks are always a huge draw. Look for a food truck that serves up innovative dishes from your city.
Serve creative refreshments: To make the event extra memorable, consider having a teppanyaki station or a molecular gastronomy chef. Both are sure to wow your guests.
10. Include a Signature Cocktail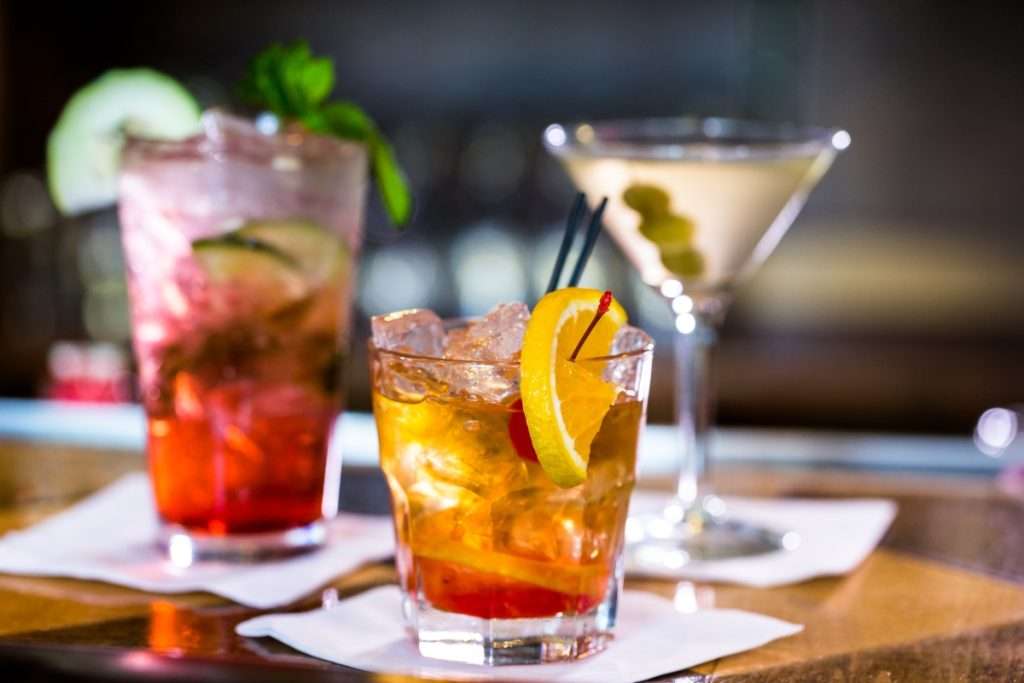 Adding a signature cocktail to your engagement party is a great way to make it unique and memorable. While the classic champagne toast can be a special way to share your joy with friends and family, a custom-made cocktail can be even more exciting.
Designing a signature cocktail to honor your special day is a simple but creative way to make sure your engagement party stands out. Start by thinking of a memorable name for the drink that references your story or relationship. Then, choose a few ingredients to craft the drink. Ask around for recipes that are easy to make and keep the ratio of alcohol to mixers low so your guests don't overindulge.
Finally, think of a couple of ways to make the presentation special. It might mean adding a unique garnish that's connected to your relationship or perhaps placing personalized tags on each glass. There are plenty of ideas to help you make the signature cocktail a showstopper. Once you have everything ready, let your guests toast the happy couple in style!
Conclusion
The perfect engagement party starts with a good plan. With our 10 creative engagement party ideas, you can have an unforgettable celebration that will help launch the couple into a lifelong journey of love and commitment. Whether you're throwing a surprise party or a more traditional gathering, these ideas are sure to help make the day special.
To really make the event stand out, be sure to customize the decorations and food to reflect the couple's unique personalities. By putting extra care into the planning, you can ensure that your engagement celebration is one that your friends and family will remember for years to come.
If you want to pull off the perfect engagement party, choose a catering company like A Delightful Bitefull Catering. We have plenty of experience catering to events and celebrations of all kinds and sizes, so you can guarantee delicious and unique food for your guests tailored to your celebration. Give us a call at (770) 565-4146 or let us know what you need for your next event, and let's talk about taking your next celebration to the next level!