There's no better summer holiday than Independence Day on the Fourth of July! Every year, Americans gather with friends and family to commemorate the day when the United States officially adopted the Declaration of Independence. What better way to show your national pride and pay tribute to this momentous day in history?
Whether you're looking for something festive to do in-person or virtually this year, there are plenty of ways to celebrate.
From home decorating to fun activities and virtual get-togethers, here are 7 fantastic ideas for celebrating Independence Day on the Fourth of July! No matter how you choose to celebrate, one thing's for sure — it's sure to be a fun and memorable way to commemorate the birth of the United States!
Host a Backyard Barbecue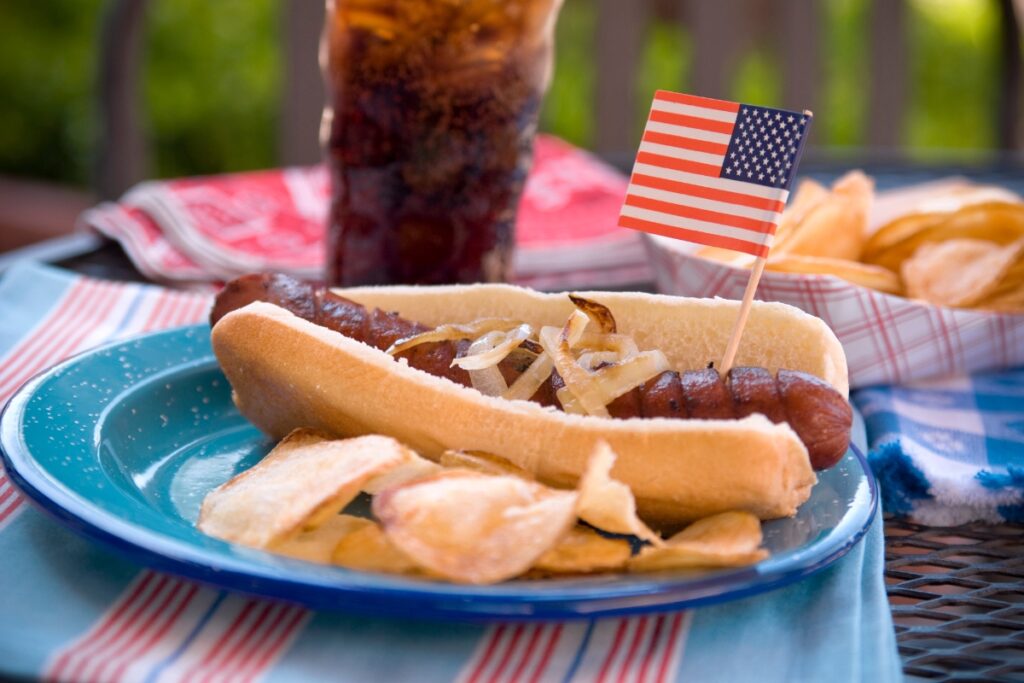 Gather your friends and family for a festive and delicious Fourth of July celebration with a Backyard BBQ Bash. This classic American tradition is perfect for enjoying the summer weather while indulging in mouthwatering grilled favorites and creating lasting memories. Here are a few more ideas to make your BBQ Bash truly fantastic:
Signature Cocktails: Elevate your beverage selection by offering signature cocktails that capture the essence of summer and Independence Day. Create a refreshing watermelon margarita, a berry-infused sangria, or a sparkling citrus spritzer. Don't forget to provide non-alcoholic options like homemade lemonade or flavored iced teas for guests of all ages.
BBQ Sauce Bar: Set up a DIY BBQ sauce bar where guests can customize their grilled meats with a variety of tantalizing sauces. Offer a selection of homemade or store-bought options, including tangy barbecue sauce, smoky chipotle sauce, and sweet and spicy glazes. Label each sauce and provide small cups or brushes for guests to sample and brush on their favorite flavors.
Creative Burger Toppings: Take your burger game to the next level by offering an array of creative toppings. Think beyond the standard lettuce and tomato and provide unique options like caramelized onions, avocado slices, grilled pineapple, jalapeño peppers, or even a fried egg. Encourage guests to mix and match toppings to create their own mouthwatering burger masterpieces.
Sides and Salads: Complement the grilled meats with an assortment of delicious sides and salads. Serve up classic options like coleslaw, potato salad, and baked beans. For a fresh and vibrant twist, offer a colorful summer salad with mixed greens, strawberries, blueberries, and crumbled feta cheese, dressed in a light vinaigrette. Consider including vegetarian options like grilled vegetable skewers or a refreshing watermelon and cucumber salad.
Sweet Treats: Complete the BBQ Bash with a tempting selection of sweet treats. Prepare a dessert table featuring classic American indulgences like apple pie, brownies, or homemade ice cream. You can also offer a build-your-own sundae station with various ice cream flavors, toppings, and sauces, allowing guests to create their own personalized frozen delights.
Remember to consider any dietary restrictions or preferences of your guests and provide alternative options such as vegetarian or vegan dishes. Prepare ample amounts of food and beverages to ensure everyone leaves satisfied.
Have a Fireworks Display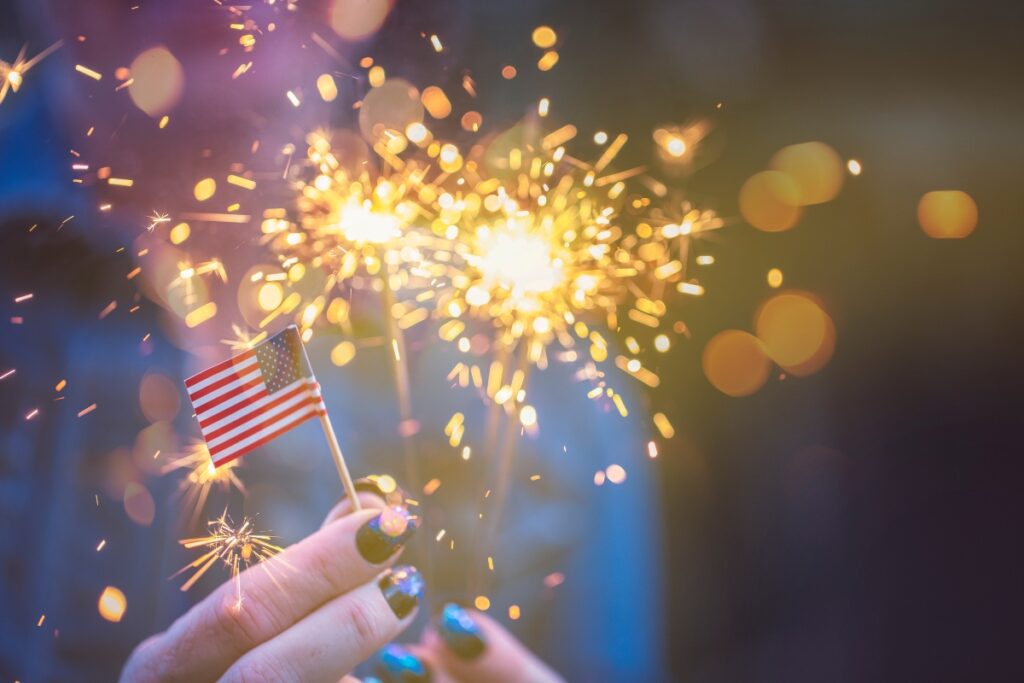 Adding a fireworks display to your Independence Day celebrations will make them truly spectacular. However, it's important to prioritize safety. Here are essential tips for a successful fireworks display.
First, check local and state laws to ensure compliance. Research restrictions on types and timing of fireworks.
Procure professionally made fireworks from a reputable source. Avoid homemade varieties.
Choose a suitable location away from people, buildings, and flammable materials. Stay at least 150 feet from structures or trees.
Have necessary safety equipment, including fire extinguishers, protective clothing, eye protection, and proper fireworks storage. Establish an emergency plan.
Ensure a licensed pyrotechnic operator is present. They are responsible for handling fireworks safely.
By following these guidelines, you can enjoy a memorable fireworks display while prioritizing safety.
Family Picnic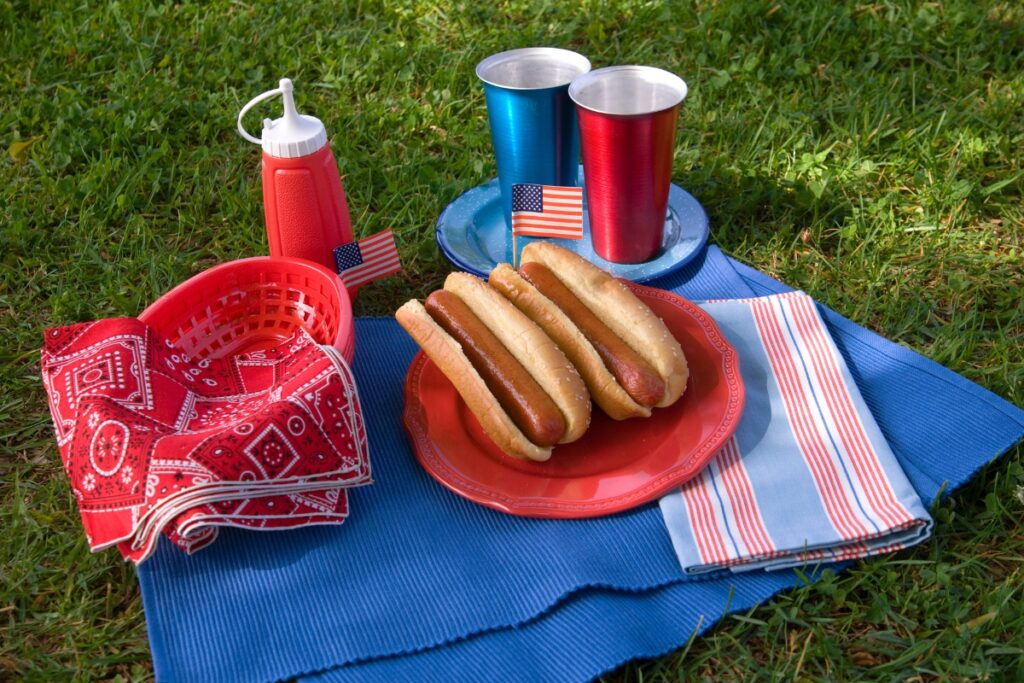 A family picnic is a great way to celebrate Independence Day on the Fourth of July. Not only can you enjoy some delicious food and quality time together, but you can also do some festive activities to get everyone into the spirit of the holiday. Whether you have an all-day celebration planned or just a few hours to spend outside, here some fantastic ideas for having a memorable family picnic on Independence Day.
Start your day off with a special breakfast. Have a cook-off among family members to see who can make the most creative and patriotic breakfast.
Get everyone in the spirit of the holiday by wearing red, white, and blue. Ask everyone to wear something that celebrates America and have a contest for the most creative outfit.
Pack a classic picnic basket with all of your favorite Independence Day treats like hot dogs, hamburgers and other classic American foods. Add in a fun twist by adding in some delicious and colorful recipes such as red, white and blueberry salad and Fourth of July cupcakes.
Have a friendly game of baseball or a three-legged race. Get everyone involved in your family picnic activities with some traditional games and activities.
Gather everyone together for a group photo. Capturing the moment with a family photo will create lasting memories of your special Independence Day family picnic.
No matter how you choose to celebrate, hosting a picnic is a great way to bring everyone together to celebrate our nation's freedom on Independence Day. Get creative and make your Fourth of July a day to remember.
Parade Viewing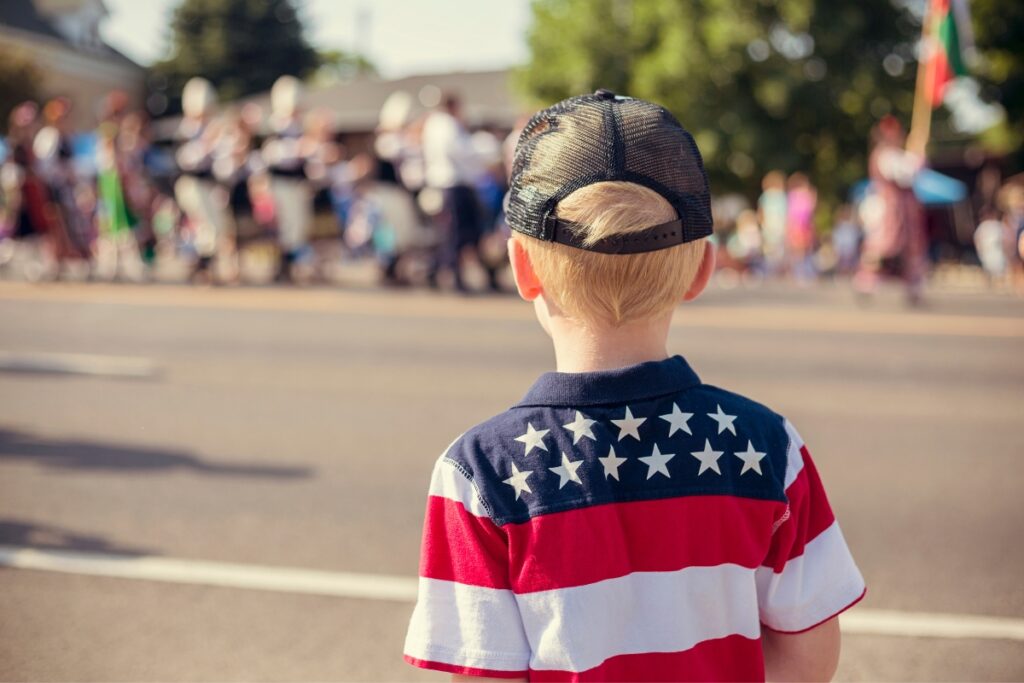 Parade viewing allows you to showcase your patriotism and pride for your country. Attend the parade in person to immerse yourself in the festivities, or enjoy the same performances and music from the comfort of your home.
If you're attending a parade in person, plan ahead and arrive early as they can become crowded as the day progresses. Dress appropriately for the weather and consider wearing layers and bringing ample water. Bringing lawn chairs ensures a comfortable and enjoyable view of the parade.
Enhance your parade viewing experience by decorating your house or car with flags, banners, and bunting. Display the American flag proudly to showcase your patriotism.
Even when watching the parade on TV, you can make it special. Plan activities that complement the parade, such as preparing American-themed snacks or engaging in a trivia game. Adjust the volume and enable subtitles to fully appreciate the performances.
Decorate with Red, White, and Blue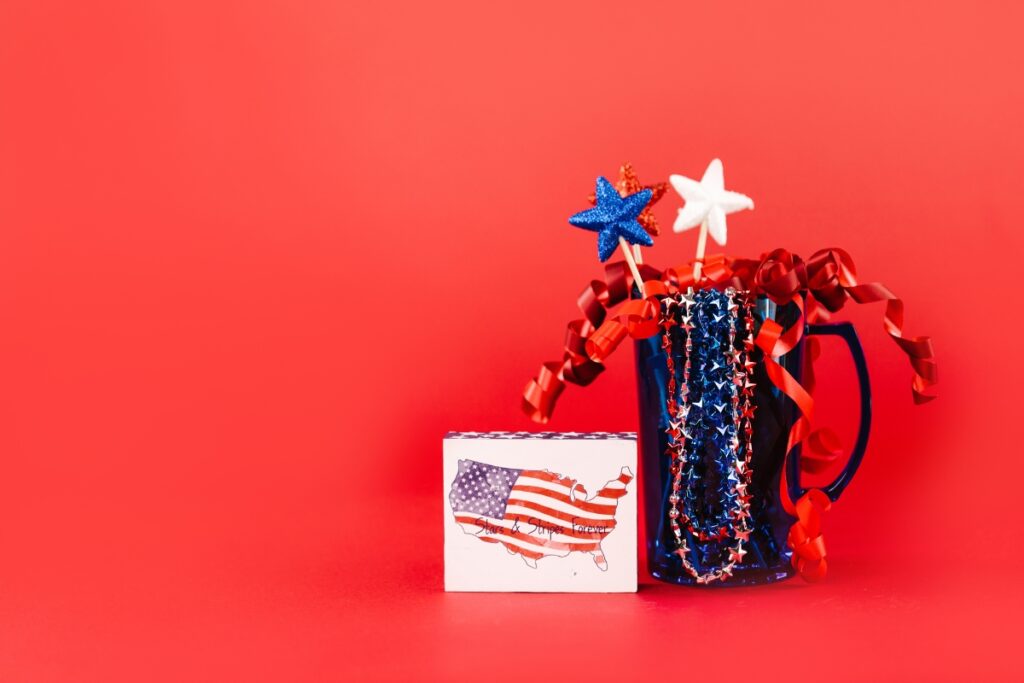 Show your love for the stars and stripes by decorating with red, white, and blue to celebrate Independence Day. Whether you prefer a grand display or a more understated approach, these colors offer endless creative possibilities.
Start with red, white, and blue balloons, which bring cheerful vibes to any space. Cluster them together or shape them into arrangements for a festive touch. Consider adding gold or silver balloons for an extra flair.
Paper lanterns in patriotic colors are another fantastic choice. Hang them on your porch or indoors to create a patriotic ambiance that complements the occasion.
Incorporate red, white, and blue floral arrangements for a beautiful and fragrant display. Select your favorite blooms in the colors of the American flag and add stars and stripes accents for an extra patriotic touch.
For a subtle yet elegant touch, use red, white, and blue ribbon to adorn wreaths and other decorations. Incorporate candles in the colors of the flag or mix and match for a cozy and inviting atmosphere.
Take a Family Trip to a Historical Site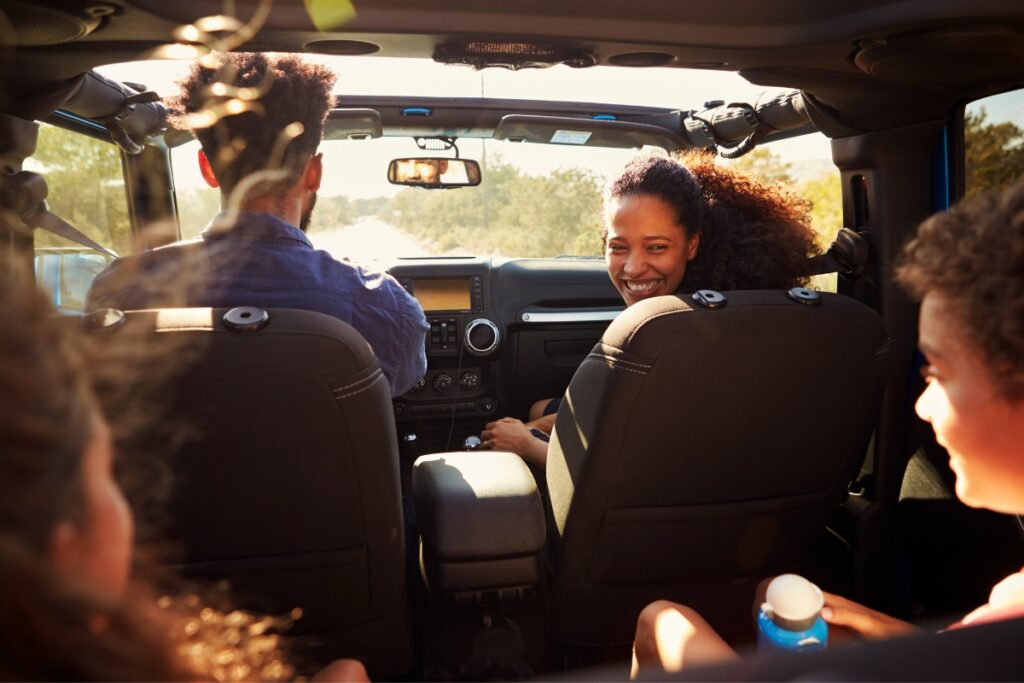 Family trips are a great way to bond with loved ones and learn something new. Visiting a historical site can be an ideal way to combine family fun with a lesson in history. From battlefields to monuments, there are many exciting places to explore all around the country. Here are a few ideas for a family trip to a historical site.
Consider the National Mall in Washington, D.C. This iconic location is home to many monuments, including the Washington Monument, the Lincoln Memorial, and the Vietnam Veterans Memorial. Visitors can explore the area to learn more about American history and celebrate independence day.
Why not take a road trip to Gettysburg National Military Park in Pennsylvania? This Civil War battlefield is the site of one of the most iconic moments in American history. Visitors can explore the grounds to learn more about the battle and its significance during the Civil War.
You can also check out the Statue of Liberty in New York City. This iconic monument is a reminder of the principles of freedom that America was founded upon. Visitors can take a boat tour around the statue and learn more about its history and symbolism.
Explore the Alamo in San Antonio, Texas. This Spanish mission is the site of a famous battle for Texas independence and is now a museum and historical landmark. Visitors can explore the grounds and get an up-close look at a piece of Texas history.
Take a trip to Independence Hall in Philadelphia. This is the site of the signing of the Declaration of Independence and the birthplace of the United States of America. Visitors can learn more about the founding documents of the U.S. and explore the area.
Donate to a Veterans' Organization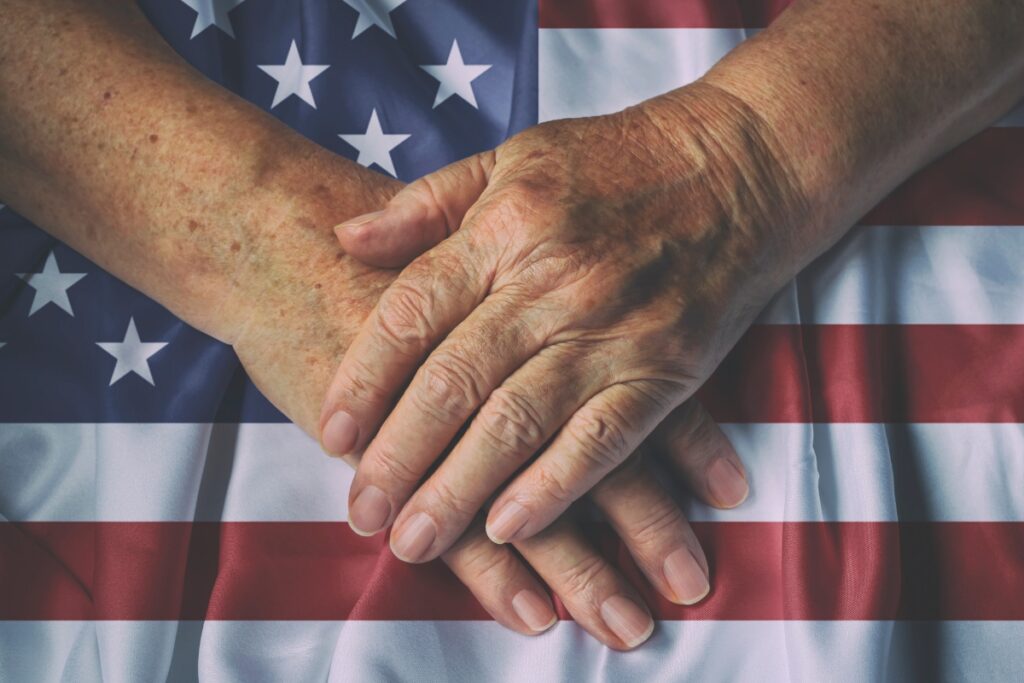 One of the best ways to celebrate Independence Day is to honor those who have fought for the freedom of our country. Donating to a veterans organization is a great way to show appreciation for the brave men and women who have served and defended our nation.
Charitable contributions to a veterans' organization can help fund a variety of activities, from providing medical and legal assistance to supporting educational programs. Donations can also be used to support veterans in other ways, such as providing job training and job placement services.
There are a number of organizations dedicated to helping veterans, including the American Legion, the Veterans of Foreign Wars, the Disabled American Veterans, and the Military Order of the Purple Heart. Each of these organizations provides resources and services to veterans and their families, so you can find one that best suits your interests.
When donating to a veterans' organization, it is important to make sure you are giving to a reputable organization with a track record of success. Be sure to research the organization and its mission before sending any money.
Another great way to show your support for veterans is to volunteer your time. Many organizations rely on volunteers to help with a variety of tasks, from providing mentoring to helping with fundraising events. Volunteering is an excellent way to show your respect and gratitude for those who have served our country.
No matter how you decide to celebrate Independence Day this year, remember to honor those who have sacrificed so much in service to our country. Donating to a veterans' organization is a great way to show your appreciation for their courage and dedication to our nation.
Conclusion
Independence Day is a day to celebrate our nation's freedom and to honor all the brave men and women who have fought for it. Celebrating this day is a great way to show appreciation and to discover more about our history. Whether it's with decorations, picnics, movies, parades, game nights, fireworks shows, or reflective activities, there are lots of ways to commemorate this special day. Celebrating Independence Day is a great way to honor and remember our nation's struggle for freedom.
For an unforgettable Fourth of July Independence Day party, let A Delightful Bitefull Catering handle all your food needs! With our expertise in catering events of every size, you can count on us to provide delicious food that will delight your guests. Take the stress out of party planning and leave it to us. Contact us today at (770) 565-4146 or reach out through any of our contact channels to start planning your patriotic celebration. Trust A Delightful Bitefull Catering to make your Fourth of July party a mouthwatering success!