A picnic is a great way to connect with family and friends over some good food. So on International Picnic Day, why not make the experience even better?
International Picnic Day is the perfect occasion to bring everyone together for a relaxed gathering out in nature. It allows for sharing laughs and stories, creating memories with loved ones, and enjoying some delicious food. With a few simple adjustments, you can take your picnic to the next level and make the day even more memorable.
Every year on June 18th, people around the world celebrate International Picnic Day by gathering in parks, beaches, or even their own backyards. And there's always something special about being outdoors and enjoying the warm sunshine, fresh air, and picturesque scenery.
Whether it's a romantic evening for two or a full-fledged party, getting back in touch with nature can be incredibly rewarding. But what makes picnics so unique and special? Here are a few ideas that can help you make your International Picnic Day even more enjoyable. So, gather your family and friends, open up your picnic basket, and get ready to celebrate International Picnic Day in style!
How To Celebrate International Picnic Day?
Setting The Scene: Picking The Perfect Place For Your Picnic
When planning the perfect picnic, the most important consideration is the location. Finding the right spot can make or break the event, so it's important to take your time and consider all the options.
Look for Natural Beauty: Whether you're planning a picnic in the city or in the countryside, it's essential to look for a spot that has some natural beauty. Look for a scenic view that can help set the mood and provide a relaxing atmosphere.
Consider the Weather: Weather can be unpredictable, so when you're picking the perfect picnic spot, it's important to consider the forecast. If it's going to be hot and sunny, look for a spot with plenty of shade, like a park or a garden. On the other hand, if the weather's going to be cooler, find a spot that's sheltered from the wind.
Find a Spot with Amenities: Depending on the type of picnic you're planning, it's a good idea to find a spot with amenities. If you're planning a big event, look for a spot with a shelter, tables, and chairs. If you're planning a romantic picnic, look for a spot with benches or a gazebo.
Pick a Location with Easy Access: When you're picking the perfect spot for your picnic, it's important to consider accessibility. Look for a spot that's easy to get to and close to parking or public transit. You don't want to spend too much time and effort getting to and from your picnic spot.
With a little bit of planning and a few key considerations, you can find the perfect spot for your picnic.
Preparing Your Picnic Basket: What Appetizers To Bring Along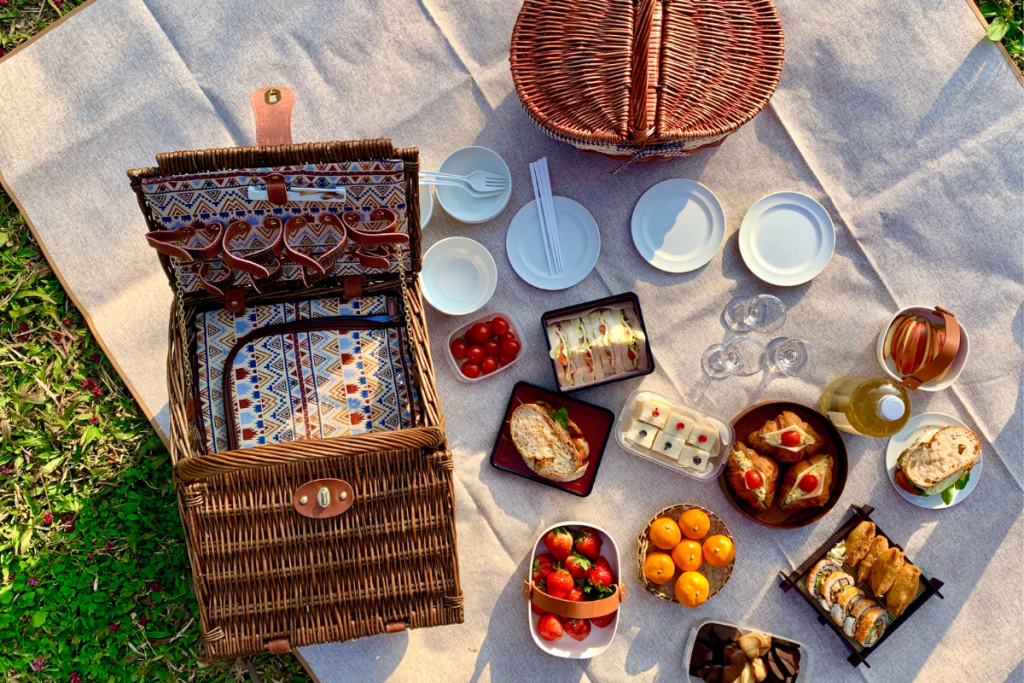 Picnics are a great way to get together with family and friends and enjoy great food in the outdoors. And celebrating International Picnic Day is the perfect opportunity to savor the taste of the outdoors with some amazing appetizers.
Sandwiches: Sandwiches are a picnic staple! To make them exciting, think beyond the typical ham and cheese. Try adding lettuce, tomato, mustard, and mayo to the mix to make them even more flavorful.
Vegetable Platter: For a healthier alternative, a vegetable platter is always a great idea. Make sure to include some dip for extra flavor.
Fruit Salad: Fruits are always a great addition to any picnic. Opt for a fruit salad with apples, oranges, strawberries, and grapes for a refreshing and healthy snack.
Cheese and Crackers: Cheese and crackers are a great snack for any picnic. Not only do they provide a great source of protein, but they are also very easy to prepare and transport.
Nuts and Trail Mix: For those looking for a snack with a bit more crunch, trail mix, and nuts are perfect. Mix together a variety of nuts, dried fruit, and maybe some cereal for a delicious grab-and-go snack.
Hummus and Pita: Hummus and pita are an excellent combination for a picnic. Not only is it healthy, but it's also easy to transport and portion out.
Pizza: Who doesn't love a good slice of pizza? If you're celebrating International Picnic Day, opt for mini pizzas or various slices to make it more interesting.
The key is to have a variety of appetizers that provide a range of flavors and textures.
Packing The Main Course And Drinks: Making Your Picnic Delicious
When it comes to picnics, the main focus is usually the food. To make your picnic extra special and delicious, it helps to plan the main course and drinks ahead of time.
Main Course: Sandwiches are a popular choice for a picnic because they are easy to make, transport, and serve. You can make classic favorites like ham and cheese sandwiches, or even get creative and try gourmet sandwich recipes, such as grilled vegetable and mozzarella sandwiches. You can also bring other main course items like pasta salads, quiche, or frittatas.
Drinks: A picnic wouldn't be complete without a cold beverage. You can bring bottled water, iced tea, lemonade, or even a pitcher of signature cocktails.
Desserts: No picnic is complete without a sweet treat. Choose something that's easy to transport and can be enjoyed outdoors. Brownies, cookies, or cupcakes are all great options. You can also pick up pre-made items at your local grocery store and jazz them up with your own unique toppings and garnishes.
Extras: Don't forget the extras for your picnic! Picnic accessories like insulated lunch boxes, plates, napkins, and cutlery are essential items. If you plan to have a picnic in the park, bring a blanket or towel to make the meal more comfortable.
With these delicious ideas, you can make sure your picnic is extra special and enjoyable.
Crafting A Fun Activity: Making Your Picnic Memorable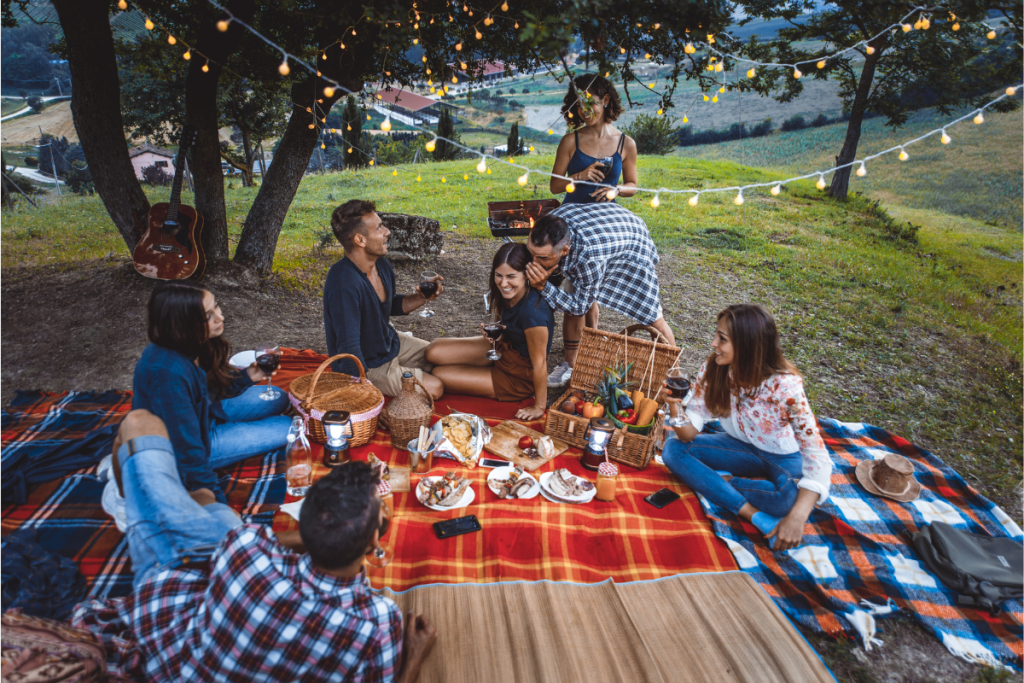 From hosting a picnic at your local park or even your backyard, there are plenty of ways to make your picnic a memorable experience.
Start the day with a picnic-themed scavenger hunt. Hide items related to picnic-themed activities around the area of your picnic. For example, hide a tablecloth, bag of chips, or a pair of tongs and have your guests search for the items. The first to find all the items wins!
Have a picnic cooking contest. Divide your guests into teams and have each team cook a dish of their choice. Judges can sample the food to decide the winner.
Have some fun with outdoor games. Set up some yard games like horseshoes, badminton, or cornhole, and challenge your guests to a game. Or bring along your favorite board games like cards or dice.
Enjoy a picnic movie night. Bring along a projector and watch a movie outdoors or turn your picnic into a drive-in theater. You can also set up a projector in your backyard for a more intimate experience.
Have a picnic picnic. Have each of your guests bring a blanket and a picnic basket with their favorite picnic items. Gather everyone in a circle and let each person share their dishes.
No matter how you decide to celebrate International Picnic Day, make sure to take some pictures and capture all the special memories.
Finishing Touches: Decorating Your Picnic Area
Decorating your picnic area is an essential part of making International Picnic Day celebrations more enjoyable. Here are some tips for adding a splash of color and pizzazz to your picnic area:
Add Colorful Tablecloths: Covering your picnic tables with brightly-colored tablecloths is an easy way to add vibrancy and charm to the area. Choose a tablecloth based on the colors of the season or your picnic theme.
Hang String Lights: Whether you're celebrating during the day or night, string lights create a magical atmosphere that is perfect for any International Picnic Day gathering. Create a beautiful canopy of lights over your picnic area or hang them as a decorative border.
Add Balloons: Nothing says celebration like colorful balloons! Tie them onto the tables, chairs, or trees to create a festive look. You can also use them to create fun shapes or spell out words related to the International Picnic Day theme.
Utilize Banners: Banners are a creative and easy way to dress up your picnic area. You can hang them on the tables or hang them on a wall or fence. The banners can feature the logo or a slogan related to International Picnic Day or simply serve as a decorative touch.
Include Flowers: Flowers and plants are the perfect addition to any outdoor space. Place brightly colored flower arrangements on the tables or line the walkway with potted plants.
By following these tips, you can add the finishing touches to your picnic area that will make your International Picnic Day celebration even more enjoyable.
Enjoying Your Picnic: Making The Most Of International Picnic Day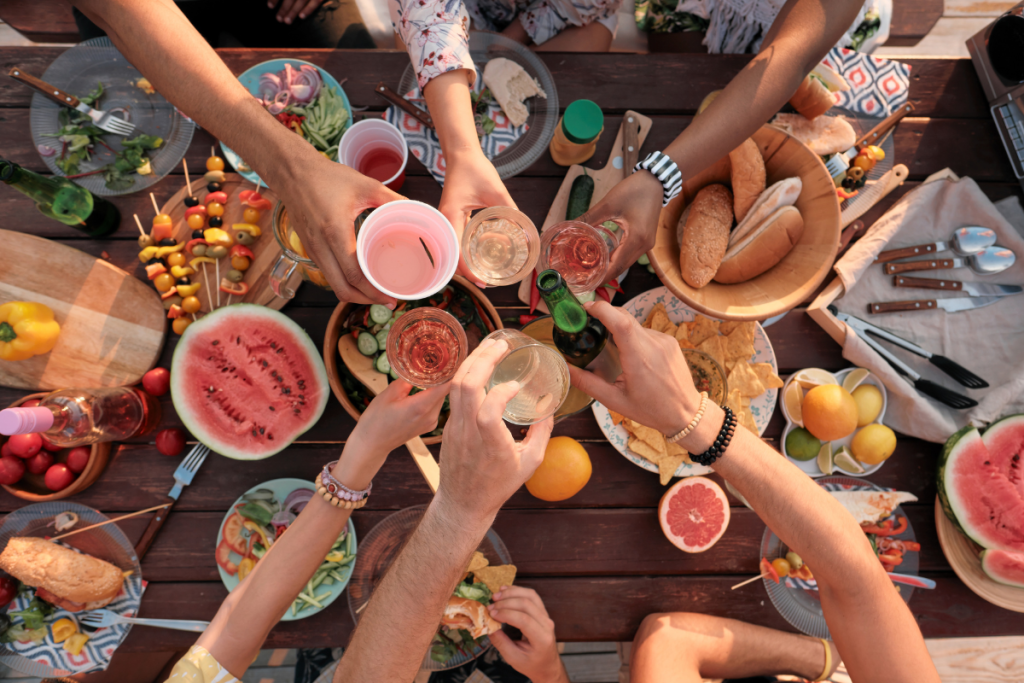 International Picnic Day is a great time to enjoy the outdoors with your friends and family. Whether you're planning a large picnic with lots of guests or a more intimate gathering, there are plenty of ways to make the most of this special day. And no picnic is complete without the food.
If you don't feel like cooking, contact A Delightful Bitefull Catering Services for a full-service catering option on International Picnic Day. We offer a wide variety of delicious cuisines to choose from, so everyone can find something they'll enjoy. And for a more traditional option, we can bring a variety of sandwiches and salads for you to share. We can also include plenty of drinks and snacks for everyone to choose from. And we even offer home delivery!
Making the most of International Picnic Day can be as simple as spending time with the people you love. Enjoy the sunshine and fresh air with some outdoor activities, bring everyone together with a themed picnic, and make sure there's plenty of food to go around.
Whether you're planning a large picnic with lots of people or just gathering with a few close friends, International Picnic Day is sure to be a memorable experience. And regardless of what you celebrate, let A Delightful Bitefull take care of it! So reserve yourself a spot on our calendar today and start every amazing event with us.