Choosing wedding favors can be daunting, but it's one of the most important parts of planning your big day. Wedding favors are not only a great way to personalize your wedding but can also boost attendance and impress your guests. You can get them in all kinds of shapes and sizes, and you can even customize them.
When it comes to wedding favors, it can be hard to know just what to get your guests. But don't worry, we've got you covered. In this post, we'll share with you some of our favorite ideas for wedding favors and tips on how much to spend on them and whether or not you need them. So read on to get started!
What Are Wedding Favors?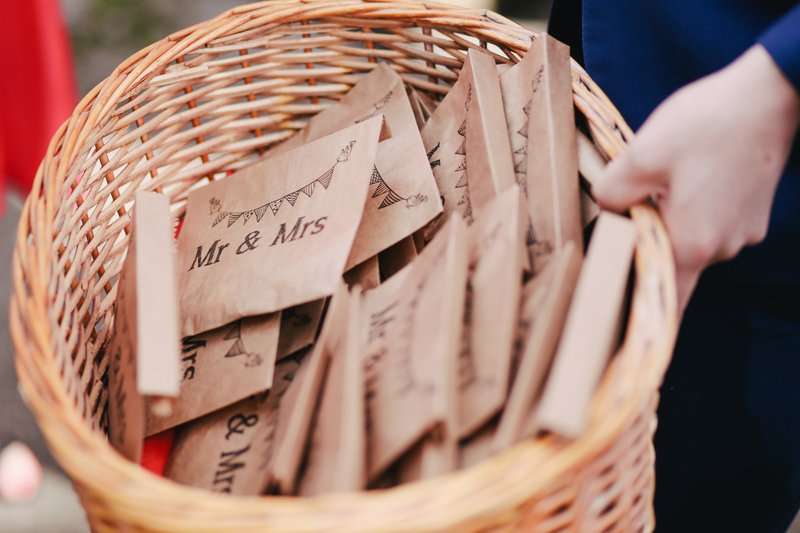 Wedding favors are little gifts given to your guests at your wedding. They can be anything from mugs or keychains to candy bars or chocolates. Whatever you decide to give out as favors, make sure that it's something that your guests will enjoy and will want to take home with them.
How Much Should You Spend on Wedding Favors?
This is a question that can be a bit tricky to answer. On the one hand, you don't want to spend too much money on them since you want them to be affordable for your guests. But on the other hand, you also don't want to give out something too cheap, either, because they won't appreciate it as much. Somewhere in the middle is usually a good place to start.
Do You Need Wedding Favors?
This question depends on your wedding theme and what kind of aesthetic you're going for. If your wedding is patriotic, for example, you might want to include favors related to the country (like flags or an American flag cake), while if your wedding is themed around nature, you might give out favors like mugs with plants or leaves on them. It all comes down to personal preference.
What Are Some Good Ideas for Wedding Favors?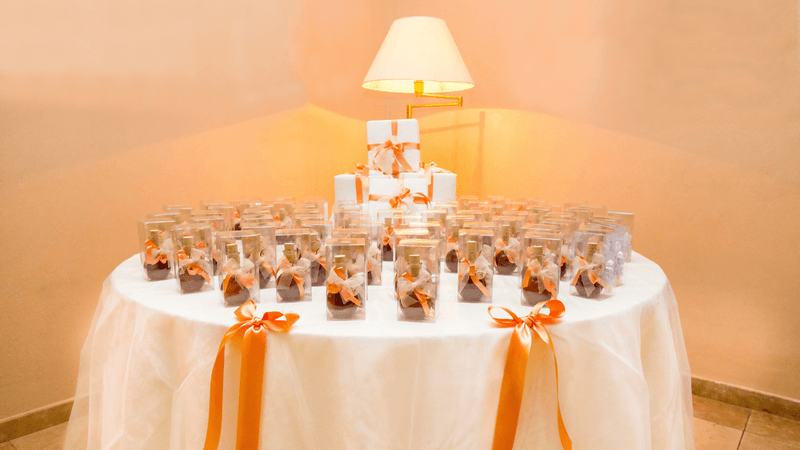 Here are a few ideas to get you started:
Favorite Foods
Give out sampler plates of their guests' favorite foods! This can be a great way to show your guests that you took the time to think about what they would enjoy, and it can also be a fun way for them to get a taste of everything!
Fried chicken, pizza, and ice cream are all classic choices for wedding favor samplers, but there are plenty of other possibilities. If the couple is into cooking, perhaps they would like sampler plates of their recipes. Whatever the couple decides, making sure their favorite foods are part of the wedding favor package will make everyone happy! If possible, consult with a wedding caterer to give you some ideas on how to do this.
Personalized Gifts
Sometimes the best way to show how much you care about your guests is by giving them something unique they can keep forever, like personalized stationery. They can also be small things like personalized keychain ornaments. Whatever the favor, make sure that it is something that your guests will appreciate and use often.
Some popular wedding favor ideas include monogrammed napkins, engraved wine glasses, and personalized bookmarks. You can also get them a mug or keychain with their names engraved or a framed photo of the couple together.
Wedding Baskets
One of the best things about wedding favors is that they can be used as reminders of the day when they're displayed prominently somewhere in your home. And if you're looking for something extra special to give out as thank-you gifts, consider giving some custom-made wedding favor baskets. These baskets can include everything from personalized cards and stationery to delicious treats and unique gift items. Plus, they make great keepsakes for future weddings!
These baskets could be in a hallway near the entrance or where guests can congregate after the wedding ceremony.
Wedding Cake Toppers
There are various ways to make your cake look even more special when it comes to cake toppers. Whether you want something simple and elegant, or something with a little more pizzazz, cake toppers are perfect for adding that extra flair.
Various shapes and sizes are available to find the perfect one for your special cake. Plus, you can make many of them in multiple colors and styles so that they can match any wedding theme. So whether it's an extra layer of decoration or just an extra layer of deliciousness, cake toppers are a great way to add some extra pizzazz to your special day!
Wedding Favor Jars
If you're looking for a unique wedding favor that will be remembered long after the big day is over, consider giving out favor jars! These little jars are perfect for holding small treats like chocolates, candies, or key chains. They can also be filled with special mementos like wedding photos or thank you cards from guests. Plus, they're a great way to show your guests how much you appreciate their attendance at your wedding!
Wedding Favor Tags
Wedding favor tags are a great way to customize and personalize your favors. They are also great for attaching favors like wedding cake toppers or favor jars. Some popular tags include monogrammed, personalized, and party supplies.
Personalized Drink Coasters
Another popular wedding favor idea includes personalized drink coasters. Coasters are a great way to show off your personality and ensure that everyone has a place to put their drink while at the wedding. They come in various colors, so you can choose something that matches the color scheme of your wedding.
Some people use coasters as placemats, while others use them as table centerpieces. The possibilities are endless!
Conclusion
These are just a few ways you can customize your wedding favors, and there's no limit to the creativity you can explore. So go ahead and get creative, and I'm sure your guests will love the unique and personalized gifts you choose for them.