Halloween is almost approaching! We are counting down the days until October 31st, as it is one of the most anticipated holidays of the year for your children. So even though most of us are staying at home, make the most out of this holiday with our Halloween food party ideas!
Throw the most epic and unforgettable Halloween party that your kids will enjoy with tasty and fantastic food options for you to choose from. We've got something for the young ones, whether they want something healthy, something indulgent, or a little bit of both!
Frankenstein Corn Dogs
Frankenstein corn dog is a sausage on a stick coated in a green-colored thick layer of cornmeal batter, deep-fried and with additional touches that made it look like Frankenstein. It may look unattractive at first, but we guarantee your kids will love these!
Halloween Fairy Cakes
These Halloween fairy cakes are an excellent snack for kids. You can be as creative as you like with your designs: from creepy spiders to ghastly ghosts and possibly even some horrific details using a lot of red food coloring. You can even let your kids have fun by allowing them to design their own with ready-to-use icing, writing icing, mini marshmallows, and more.
Halloween Pumpkin Cake
What could be more adorable and festive than a Halloween Pumpkin Cake? It's not only shaped like a pumpkin, but it also tastes like one. A cute Halloween Pumpkin Cake with a happy face will lift your kids' Halloween spirits! Try going for a pumpkin spice cake with buttercream frosting for that Halloween and autumn taste.
Halloween Cake Pops
Delicious Halloween Cake Pops decorated in Jack O Lanterns or other spooky characters would make fantastic snacks for a Halloween Party. But, of course, they're perfect for Trick-Or-Treat goodies, too!
Zombie-bread Men
If you are looking for tasty baked goods for Halloween, try making Zombie-bread men. This is based on a traditional gingerbread man, but with a Halloween twist by adding some strawberry laces to represent guts and make it look spooky. Your kids will surely love this treat!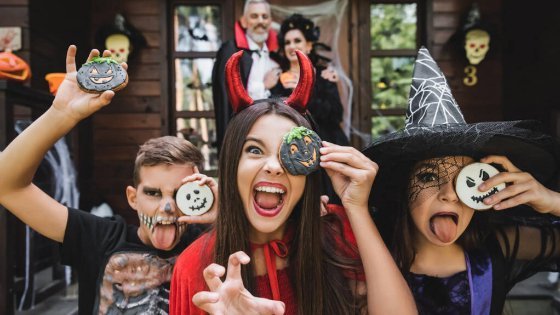 Mummy Hotdogs
Halloween is all about costumes, candies, and mummy hot dogs! These adorable and simple mummy hot dogs will indeed become a Halloween favorite for your kids. Wrapping regular hot dogs in crescent roll dough transform them into mummy hot dogs for a fun Halloween twist on the classic pigs in a blanket.
Pumpkin Deviled Eggs
Just in time for Halloween, we give deviled eggs an excellent fall twist! Experiment with different toppings or leave them out entirely. In any case, the filling is delicious on its own. It's a sure bet that your kids will not be able to resist this delightful treat at your Halloween party.
Monster Wrap
Include tasty "monster" wraps in your Halloween party menu. It is a twist of your classic wraps dressed like monsters to add fun to your party table. These wraps are a perfect choice if you want to fill your kids' stomachs full.
Marshmallow Heads
On with their heads! These adorable ghoul-looking desserts are simple to make, using only a few essential ingredients and a bit of artistry with a toothpick for styling. The marshmallow heads are then served with a stick. These will quickly satisfy your kid's sweet cravings!
Mummy Meatballs
These are a twist to the Mummy Hotdogs! They're turned into adorable and appetizing mummy meatballs that will indeed become a Halloween favorite for your kids too. Instead of wrapping crescent roll dough on a regular hotdog, meatballs are used instead. You can add or put it on a bed of tomato sauce that may look or play the part of blood. It is a meaty treat that can easily blend into the Halloween theme.
Host the Best Halloween Party With Us!
Don't have the time to prepare for all these Halloween party food ideas? Then, host the most memorable and exciting party, complete with ghoulishly delectable food for all of your little ones with us! If you hire the A Delightful Bitefull catering service, you don't have to worry about the cooking and preparation. We'll do all these for you in no time!